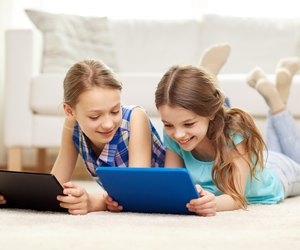 credit: dolgachov/iStock/GettyImages
The internet is a vast land full of mindless entertainment that captures the attention of adults for far too many hours a day. Since kids are basically tiny adults in the making, they also get swept up in the mindlessness of it all. That's why it's important to provide safe and educational websites for your kids so they can actually spend time using their noggins instead of turning into piles of brainless goo. Here, five really cool websites for kids that are fun, safe and educational. (And, chances are, your kids won't even realize they're learning!)
Time For Kids
Chances are, your kids hear about current events either from their friends, the internet or from you. You might as well offer them a website that breaks news stories down so they can understand them and become educated on world events on their own. Plus, they get to practice their reading skills.
The current events and news stories on Time for Kids are written specifically for kids, so you don't need to worry about anything being inappropriate.
A Mighty Girl
A feminist website for girls (and boys) to go to when they want to find empowering and inspirational books, toys, music and clothing. A Mighty Girl was created by two women who were tried of searching high and low for positive gifts for their nieces.
The site even offers a book club. A Mighty Girl really is a one-stop shop for girl empowerment.
BrainPOP
There's so much to do on BrainPOP, and literally all of it is both fun and educational. The site offers animated games and videos that reinforce what your kids are learning in school.
The curriculum goes from kindergarten all the way through grade 12. For the younger kiddos (K through grade 3), check out BrainPOP Jr. A subscription is needed for some of the activities, but there's still plenty of stuff to do for free.
DOGO News
The perfect spot for kids who are interested in global news. DOGO News offers endless stories happening around the world, as well as lists tons of popular kid-friendly books and movies.
In a matter of minutes, your kids could read about an active volcano in Italy, a new giant panda being born in China and an ancient insect that inhabited Earth 100 million years ago. Yes, adults can visit the site too. You know you want to.
Doodle.ly
Doodley.ly is SO perfect for creative kids who love to draw. It's a super simple virtual sketchpad that allows kids to publish their drawings on the site, and older kids can even share them on social media.
It's completely free and is also an app on iOS.