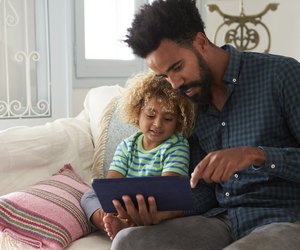 credit: monkeybusinessimages/iStock/GettyImages
How much more convenient would life be if you could allow your kids to surf the web without worrying about what sort of inappropriate content they might come across? It would be one less thing for you to think about, and it would also give your kids a greater sense of independence.
You know, instead of you constantly lurking behind them watching their every click like a creeper.
Luckily, a handful of safe search engines exist for that exact reason. Of course, keep in mind that no search engine is 100% secure, so it's still important to teach your kids what to avoid when spending time on the internet alone.
Here are some of the best kid-friendly search engines on the internet.
Sweet Search
Sweet Search is a search engine designed specifically for students.
All the content available on the site is evaluated by a group of experts, including librarians and teachers.
KidzSearch
A search engine designed exclusively for kids ages 10 and up.
KidzSearch offers a safe, fun way for kids to easily research school topics like science, math, geography, language arts and history in a search environment that's safer and more age-appropriate than the adult search engines you're used to.
Safe Search Kids
Safe Search Kids is powered by Google to deliver filtered search results that are safe for kids.
It offers the option to surf the web safely, as well as the ability to look up safe images, safe Wiki and safe videos.
Kid Rex
The cutest site we've seen, Kid Rex is a search engine designed for kids by kids. This is another one designed around Google's safe search.
There's a section for kids and a separate section for parents, which allows you to set up parental controls.
Famhoo?
A family-friendly search engine that filters results from a wide variety of safe search engines in a way that protects families.
Famhoo partners with families, schools, businesses, churches, cities and other organizations interested in creating and offering a safer internet environment.
One Key
In collaboration with Google, One Key is another good option for safe internet searches.
There's even an option to report unsafe sites, should you come across one.
Kids Click
With Kids Click, search with keywords, by categories alphabetically or by Dewey Decimal numbers.
Also easily search for digital media (pictures, videos or sound). The site offers a ton of educational categories in a really safe environment.
Awesome Library
Another Google Safe Search site, Awesome Library is exactly what is sounds like it would be. An awesome library.
It's an online library full of carefully reviewed content for teachers, kids, teens and parents.