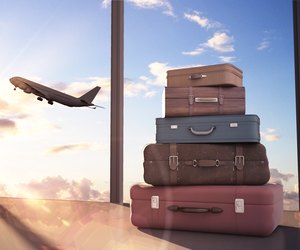 credit: Peshkova/iStock/GettyImages
Traveling by air isn't always the most enjoyable experience: You have to get yourself to the airport; arrive early; wait in long check-in lines and even longer security lines; take off your shoes and your jacket; remove your laptop from your bag; and throw away any liquids over 3.4 ounces.
And that's all before you even get to the gate.
It's good thing new ways are being invented to make traveling a lot easier — specifically, innovative carry-ons. Here are some really cool, tech-ready carry-ons that are sure to make traveling a breeze...or at least a little breezier. Like, a gentle wind, perhaps.
G-RO
With the largest wheels we've ever seen on a suitcase, let alone a carry-on suitcase, the G-RO bag has the sturdiness to get you through any type of terrain. No more dealing with broken wheels as you're running through the airport trying to catch your flight!
The bag comes equipped with two USB ports for charging, a front pocket made for your laptop and a built-in stand for supporting your tablet. You can even track your bag using GPS for and additional $4.99 per month. Choose between black, silver, blue and red tires. Available here for $449.
Bluesmart Black
A carry-on suitcase that connects to your phone, because suitcases can be magic. Bluesmart Black is the updated version of Bluesmart One, and both are pretty incredible.
The bag comes with a digital scale for weighing everything you've packed, a battery charger and GPS tracking. It also includes a remote lock, which is controlled through the free app and enables you to lock or unlock your bag from afar. Buy Bluesmart Black Edition here for $599.
Away
Built-in iPhone and laptop chargers make the Away bag incredibly useful. It's also useful because it carries your belongings, but come on, you know you've always wanted a bag that chargers your devices.
The bag comes in a variety of colors and sizes, and you can buy it here. The carry-on size goes for $225 and the bigger carry-on sells for $245.
Raden
With its sleek, modern look and super tech-y features, the Raden carry-on bag is legit a dream. As the company so eloquently puts it, it has "the beauty and the brains."
The Raden allows you to sync your suitcase with the accompanying app to weigh its contents and track its location should you ever lose it. It comes with a built-in slot to connect a USB cord to charge your phone. Available in either matte or gloss finish in a variety of cool colors. Get it here for $345.
Samsonite GeoTrakR
Know where your luggage is at all times with the Samsonite GeoTrakR. An electronic geo-tracking device is built in to the bag so you can locate it at all times through its free app.
The built-in rechargeable battery lasts for 15 days, which is an impressive amount of time. The bag is currently on sale for $269.99 (down from $400). Get it here.