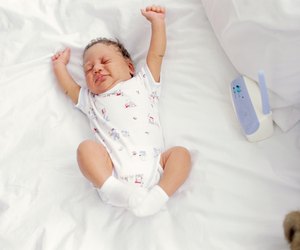 credit: Stockbyte/Stockbyte/GettyImages
Choosing the right baby monitor can be a lot more difficult than you'd expect. There are so many choices in brands and features — it can be confusing and overwhelming. Like, do you want a camera that zooms in and out or a monitor that tells you the temperature in the baby's room? Perhaps you're looking for a device that allows for Wi-Fi and comes with an app so you can watch your baby sleep while you're at work.
Whatever you're looking for, the right monitor for you exists, you might just need to do some digging to find it.
Of course, the most annoying part happens when you find a monitor that fits your preferences, but then when you read the reviews, you realize it's apparently the most inefficient piece of technology ever invented.
Here's our unsolicited advice: Find a monitor that comes equipped with the features that are important to you and your family and then AVOID THE REVIEWS! The truth is, there really aren't any baby monitors that have stellar reviews. Mainly because more people tend to write reviews when they're unhappy with a product and not when they love it. It's just human nature.
To help in your baby monitor search, we've found some of the best baby monitors on the market that will hopefully bring you some peace of mind.
Summer Infant Baby Touch
Check on your kiddo from the other room by using the provided touchscreen monitor, or when you're away from home, use the Summer Link Wi-Fi app. The Summer Infant Baby Touch comes with a camera that tilts up, down, left and right so you don't miss anything. The app isn't as clear as the 3.5" monitor, but it gets the job done.
Two-way communication allows you to hear your baby as well as comfort her with your voice. The monitor tells you the temperature in the room and it even comes with night vision. Available at Babies R Us for $199.98.
Nest Cam
The Nest Cam isn't officially a baby monitor, but a home security system that works the same way. It doesn't, however, come with a monitor, so you'll need to use your own device (like your phone, iPad or computer) to keep tabs on your baby through Wi-Fi. When it detects activity, there's an option to have a screenshot sent to your phone.
The Nest has a talk and listen feature, allowing you to communicate through the app. The night vision feature provides a shot of the entire room, not just a spotlight view. It's by far one of the best cameras on the market. Purchase on Amazon for $169.54.
Motorola Wireless Video Monitor
This Motorola Wireless Video Monitor comes with a 3.5" color LCD screen, infrared night vision, room temperature monitor and remote camera adjustment. You won't get Wi-Fi with this one, but it does come with the option to purchase two cameras in a bundle, which is a huge bonus.
You can buy the two-camera bundle for $149.99 on Amazon, which appears to be the same price as one camera. No complaints here.
iBaby Monitor M6T
An HD Wi-Fi enabled digital baby monitor, the iBaby camera is set up to provide you with sound and motion alerts, as well as temperature and humidity information.
The camera can pan and tilt, as well as let you see your baby clearly at night. It has two-way audio speakers and the option to add unlimited users — so your entire extended family can watch baby sleep if they want to. Available on Amazon for $130.90.
VTech VM343 Safe & Sound Video Monitor
The VTech has night vision, the option to pan/tilt/zoom and two-way audio. It comes with a high resolution 4.3" color LCD screen.
You can mute the device, but still visually monitor noise levels. Get it on Amazon for $179.50, plus an additional $56.38 if you want an extra camera.