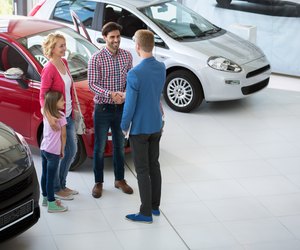 credit: LuckyBusiness/iStock/GettyImages
Chances are, if you're in the market to buy a new car, you've probably done some research. Figuring out which car to buy can be a daunting experience that requires a lot of legwork. But there are apps to help make that legwork less...legwork-y.
Smartphone apps can send you alerts when prices drop or new cars become available. They also have some capabilities the company websites don't, like scanning a window sticker or vehicle identification number for price estimates. And if you show up to a dealership or private seller, you'll have all the bargaining info you'll need in the palm of your hand.
So if you aren't into scouring multiple websites and going into multiple car dealerships, allow one of these handy apps to help you find the car you want.
Kelley Blue Book
Kelley Blue Book is a trusted source in the auto world. The website offers a lot of different car buying tools, but the app focuses on reviewing and pricing specific models, as well as finding local dealerships.
The app is a great source to narrow your car choice down, but you'll need to use the website as a resource to find actual local car listings. Available on iOS and Android.
Instamotor
A similar, but safer version of Craigslist. Instamotor is a great place to find used (aka preloved) cars for sale by owner in your neighborhood. The app specifically helps buyers avoid getting scammed by giving each listed car a free fraud check, recall check and vehicle history report.
The sellers decide the price, so prepare to do a bit of haggling if you feel like the price is unreasonable. Once the price is decided, Instamotor provides calculators to check out auto loan rates, and you can even apply for financing through the app. Download for iOS and Android.
TrueCar
With TrueCar, you can search for the car you want and receive a breakdown based on what other people paid for the same car. When you're at any participating dealership, you can scan the window sticker to use the mobile price check feature.
The app will give you the option to send your contact information and price quote to its network of certified dealers, which will mean lots of sales calls, but also lots of offers. Available for iOS and Android.
Used Car Search Pro by iSeeCars
One of the best apps to find a used car, Used Car Search Pro searches over 40,000 dealerships and private sellers for cars. There are 59 search filters to make finding your dream car a lot easier — like finding a car with a third row or one with bluetooth capabilities.
The app looks at the market value of cars to make sure you're getting a fair price. Download for iOS and Android.
Wyper
Wyper is the Tinder of car buying, but with less hurt feelings since the car can't swipe back. Simply "wype," or swipe, through results of local car listings that fit your search criteria.
The app uses an "interest algorithm" to provide a more personalized sequence of choices over time. Available for iOS and Android.