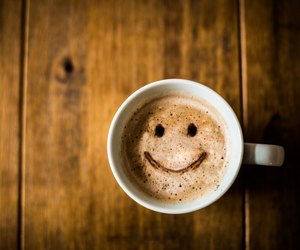 credit: a_crotty/iStock/GettyImages
Imagine this scenario: You wake up after a decent night's sleep, throw on your robe and head to the kitchen to make a cup of coffee. But your coffee maker is BROKEN. Like, completely out of service. Not only do you not get your morning cup of happiness, but now you need to buy a new coffee maker.
Sorry to put you through that nightmare scenario, but it's a situation that could happen, and you should be prepared. So whether you're looking to find a new coffee maker just in case your current one breaks, or if you're in the market for a new one because you want to upgrade your life, we've got you covered.
Check out these coffee makers that'll brew you some seriously delicious coffee.
Nespresso VertuoLine Evoluo
This particular Nespresso model has more to offer than any other model. The VertuoLine Evoluo can brew both coffee and espresso with one touch of a button, and it easily froths hot and cold milk. It comes with a removable 54 oz. water tank and a removable container that can hold up to 17 used capsules.
The only downfall is that it doesn't brew as hot as most people would like. But if you're not super interested in burning your tongue, this might be the maker for you. Available on Amazon for $170.
Ninja Coffee Bar
The Ninja Coffee Bar is like a legit coffeeshop experience from the comfort of your own home. It comes equipped with a milk frother, numerous brewing modes and various coffee size container options. Using a pod-free single serve, it allows you the flexibility to use any brand of ground coffee you want.
The list of features and capabilities makes the Ninja's price hard to match. You can get it on Amazon for $146.
Bonavita Thermal Carafe
The Bonavita Thermal Carafe is a great option for a drip coffee maker. It's compact, easy to clean and just as easy to use. It may not be as pretty to look at as more expensive makers, but you really can't beat the price.
The 1500-watt heater maintains an optimal brewing temperature of 195°-205°F, and it'll make 8 cups of coffee at a time. Available for $127 on Amazon.
Bunn Velocity Brew BT
Make a cup up coffee in just three minutes and 33 seconds with the Bunn Velocity Brew BT. While the look of it probably won't impress your coffee connoisseur friends, it'll still brew a delicious 10-cup pot of coffee in no time.
You'll need to purchase special Bunn paper filters. Buy it on Amazon for $126.
Technivorm Moccamaster
The Technivorm Moccamaster KBT 741 is basically a work of art. It's a stunningly elegant drip brewer that brews outstanding pots of coffee 10 cups at a time. The best part? It keeps coffee hot for a full six hours.
The downfall is the price and that it takes up quite a bit of room on the counter. But if those things don't bother you, check it out on Amazon. It's going for $308.