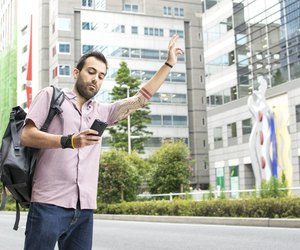 credit: Isfendiyara/iStock/GettyImages
Raise your hand if you've ever left something behind in an Uber. If you haven't, then you probably know someone who has. Usually it's a phone, credit card, shopping bag or something else of importance that sends you into full panic mode. But apparently, people leave way more behind than just the usual suspects.
To acknowledge the forgetful people of the world, Uber created The Uber Lost & Found Index. The index is made up of the most commonly forgotten items in an Uber, which consists of phones, rings, keys, wallets, glasses, purses, IDs, gloves, chargers and sunglasses.
But the most interesting part of the Lost & Found Index is the list of the most unique items forgotten in Ubers. Because what the what? Not only are the items people are carrying around with them super random and ridiculous (and kind of confusing), but you'd think they'd remember to, you know, not forget a bulletproof vest or an entire Nintendo system in the backseat of a stranger's car.
If you happen to be one of those forgetful people, Uber created a short video explaining how retrieve your items:
And here are the top 50 most unique items forgotten in Ubers, because other peoples' forgetfulness can totally be our entertainment:
Valuable Nordic walking poles
Paintings
Lobster
Sweet potato care package
Paycheck
Guitar
Engagement ring
Rubber mallet
School papers
Chair
Laser
Hot Cheetos
Notary bag
Pool stick
Smoke machine
Pearl earrings
Wedding outfit
Hard drive
Stroller
Bulletproof vest
Crime & Punishment (book)
Valium
Grill set
Meat packet
Corn hole boards
Wooden hat
Lottery ticket
Back massage device
Rose quartz
Mustard
Bible
Elf cut-out
Tap handle
Expensive slipper
Harry Potter glasses
Salsa Verde
Kite
Cape
Potted plant
Nintendo
Dog sweater
Contact lenses
Diary
Tickets
Arm sling
Taser
Vacuum
Jewelry box
Money bag
Violin