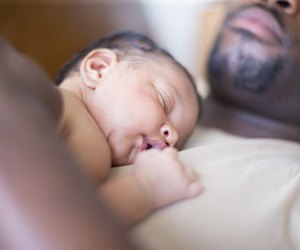 credit: DGLimages/iStock/GettyImages
Becoming a new parent is the most beautiful, life-changing experience you might ever experience. While there's so much to absolutely love about bringing home your adorable newborn baby, there's also a lot to remember. Like, when was the last time you fed her? How many diapers have you changed today? How long has he been sleeping?
Doctors recommend keeping close tabs on important events for the first few weeks to make sure your baby is on track. And you'll probably want to keep track of other milestones just because.
Gone are the days of writing everything down by hand, because now there are apps that help you get organized while keeping track of every moment.
Here are five essential apps to download for parents of newborns and beyond.
Sound Sleeper
Help your baby sleep with Sound Sleeper, an app that offers white noise for newborns, infants, toddlers and parents. The noises help put your baby to sleep in minutes with Play Mode, help her stay asleep with Listen Mode and enable her to develop healthy sleep habits with Sleep Tracking Mode.
Aside from just playing white noise, the app also tracks sleep patterns when you use the Listen mode, which automatically turns on when your baby cries. It also gives you the option to record your own soothing sounds.
Today's Parent My Family
A personalized guide to your child's age and development stage. Simply enter your due date or your kid's birth date and receive tons of information about and developmental stages, health, recipes and fun activities.
The app offers storybooks as a way to keep your pictures and videos organized, trackers to help you record your baby's naps and feeding schedule and a potty training tool.
MyMedela
Medela makes really great baby products, including breast pumps, and now there's an app. MyMedela can provide breastfeeding and pumping tips and interactive checklists to support your goals, as well as connect you to the right products when you need them.
You can also keep track of your baby's height, weight, sleep and diaper changes. MyMedela connects to its Sonata smart breast pump, so you can get real-time information about your pumping sessions.
Baby Connect
A one-stop shop, Baby Connect does pretty much everything for you in one app. Track feedings, diaper changes, sleep habits, moods, activities, medicines, doctors visits, growth, photos and more.
You can even connect other people to your profile (like your spouse, parents or child care provider) so you can share information and photos, as well as send secure messages back and forth.
Growth
Instead of marking your child's growth on a wall (although that's fun too), you can easily keep track on the Growth app. Enter your child's height and weight to calculate exact percentiles using data from World Health Organization (WHO) and the Centers for Disease Control and Prevention (CDC).
The app makes it easy to share your child's progress by letting you export the data as a CSV or PDF file, which can be emailed or transferred via AirDrop.
Available for free on iOS. For an Android alternative, check out Growth Chart Lite.