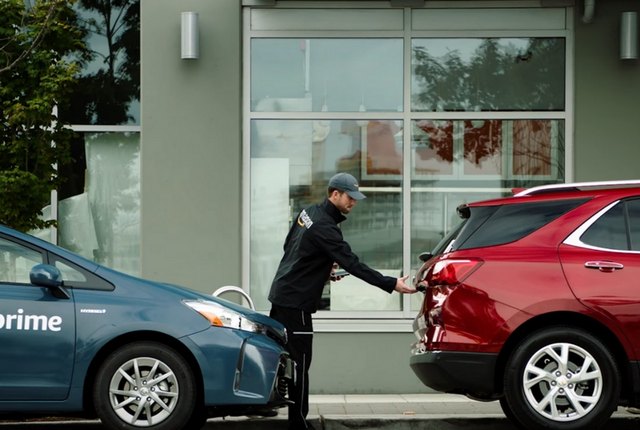 Amazon's home delivery service has just expanded to cars. Yep, the mega retailer will now deliver packages directly to your car, and you don't even need to be there to receive them.
Amazon Key In-Car is the latest addition to Amazon's existing Key Service for Prime members, which allows you to give delivery drivers access to your home using a keypad on your door that's compatible with a smart security camera and the Key app. The in-car delivery service is the same concept, only customers can have their orders delivered to the trunk or back seat of their cars.
The service is now available in 37 cities, but only for certain vehicles—Chevrolet, Buick, GMC, Cadillac, and Volvo vehicles made in 2015 or newer. Delivery drivers need to be able to unlock the cars remotely, so qualifying Volvos must be equipped with OnCall support, while the other cars need to have OnStar.
"Customers have also told us they love features like keyless guest access and being able to monitor their front door from anywhere with the Amazon Key App," Vice President of Delivery Technology Peter Larsen said in the press release. "In-car delivery gives customers that same peace of mind and allows them to take the Amazon experience with them."
Amazon shared a video on its Twitter page of customers testing out the Key In-Car service.
Drivers won't track you down at the mall or grocery store, however. You'll need to be parked at your home, an office building, or within two blocks of those locations. Once your car has been located, the driver will verify your license plate and open the car remotely from their phone. The package will be placed inside your car, and the driver will lock it.
If you're a Prime member and have an eligible car in one of the participating cities, you can test the new feature by downloading the Amazon Key app, registering for Key In-Car, and linking your car. Then all you need to do is shop.