As the bane of online singles and the pride of teenage Instagram models everywhere, Snapchat's vast array of filters and lenses can be a little divisive – but when they are used in the right context, it's hard to deny that they're a fun feature. First introduced in 2015, filters and lenses are a crucial part of Snapchat's fun-loving, in-the-moment identity, and certainly not a small part of what has helped the social app attract almost 200 million daily users. Although Snapchat itself regularly introduces new filters and lenses, you don't have to know a single line of code to make a Geofilter of your own.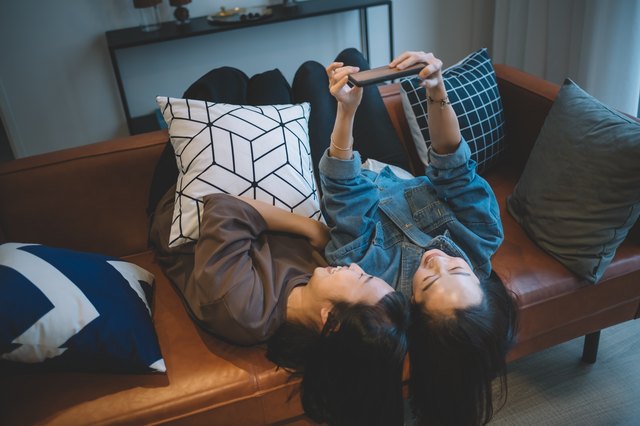 credit: chee gin tan/E+/GettyImages
What Is a Snapchat Geofilter?
On Snapchat, filters use augmented reality technology. When you hold your phone up to take a Snap, you see a filter – usually in the form of colorful banner or frame with accompanying text – overlaid on top of your photo or video. Similar to filters, Snapchat lenses specifically augment people's faces, adding often-animated features like cat ears, different eye colors, funny hats or a rainbow pouring out of the subject's mouth. So while you may have heard the term "puppy filter," the Snapchat feature that gives you dog ears and a puppy nose is a lens.
Geofilters are a type of Snapchat filter that is only available to use in a particular geographic location or vicinity and often for a limited amount of time. You might have access to a Snapchat Geofilter if you visit a famous landmark, pop in at a specific business, go to a wedding or attend a music festival, for example.
How to Make a Snapchat Geofilter
To start making a Snapchat Geofilter for your event or location – personal or business – choose "On-Demand Geofilters" from the Settings menu in the Snapchat app or head over to create.snapchat.com, log in with your Snapchat account, and choose "Create Filter."
Here, you choose from a huge variety of premade filter designs. Just select the occasion – from a bachelorette party or Ramadan to advertising a local bar – and you are presented with dozens of options for each. If nothing catches your eye, tap the "Upload" button to upload and use your filter creation. To use this option, you must submit a PNG-format image that is 1,080 pixels wide, 2,340 pixels tall, less than 300 kilobytes in file size and with a transparent background.
If you chose a premade template, click or tap the placeholder text to adjust its size and customize the words. From the menu to the right of the Geofilter's preview, choose "Color" to modify the filter's overall color scheme, "Text" to change the typeface and font color, or "Elements" to upload custom photos to add to the filter or to log in to your Bitmoji account and add Bitmojis of you and your friends.
Select the "Next" button to choose the active dates for your Geofilter by selecting them from the calendar and select "Next" again to select the location or radius in which the Geofilter is usable. Enter a street address to zero in on the location in question and then click and drag the points on the "fence" to cover an area of at least 20,000 square feet, which is about the size of a house and yard.
How Much Does It Cost to Make a Geofilter?
After you've chosen a radius, tapping the "Checkout" button that takes you to a payment screen, where you enter the usage type – personal or business – of your Geofilter, your payment information and an optional event name, before selecting "Submit" to finalize the Geofilter.
The size of your Geofence, duration of the event, and demand of the location all affect the Geofilter's final price tag. Most events run from around $8 to $20, although a Geofilter for a massive space in a high-demand area – like a sports stadium – can cost $5,000 or more.
How Can I Add a Filter on Snapchat?
It typically takes Snapchat about one business day to approve your Geofilter for use. Once it's up and running, Snapchat users can add your Geofilter just like any other filter – as long as they're in the right place at the right time, that is. Passersby are also able to see your Geofilter, so don't put your Social Security number on it.
To enable a filter, capture your Snap as usual and then swipe left or right to choose a filter. For smooth Geofilter usage, make sure you and your friends have enabled Snapchat to access your location "While Using the App" in the Settings menu.