In 1977, the Apple II – one of the first personal computers to hit the home market in wide release – retailed for an entry-level price of $1,298. Adjusted for inflation, that's about $5,442 in 2018 money. Even in the '70s, tech enthusiasts knew one thing for certain: Being an early adopter is expensive. Of course, today's home 3D printers benefit from the increasing affordability of computer parts – we live in a world of smart fridges, after all – so the sticker shock isn't quite as staggering. Modern 3D printers aren't cheap by any means, but the variety of available options caters to a reasonable range of budgets.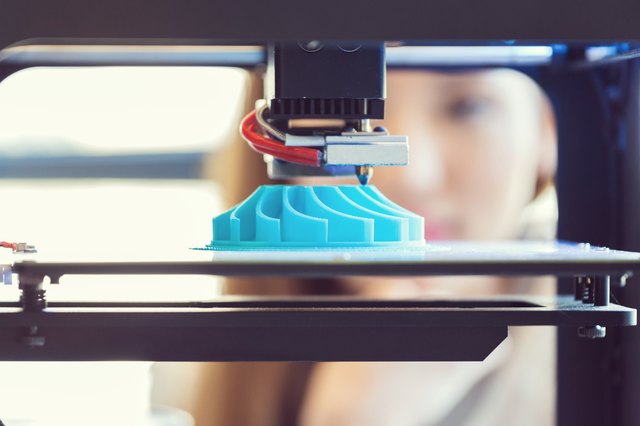 credit: izusek/E+/GettyImages
What Is a 3D Printer?
While a run-of-the-mill laser or inkjet printer prints text and images on two-dimensional paper, 3D printers create three-dimensional objects from scratch. Think of them as miniature manufacturing devices.
To get started, you create or download a digital file containing plans to print a three-dimensional object. These files are typically created by computer-aided design or manufacturing programs, or they can be sourced by scanning an object with a 3D scanner. Websites such as Pinshape, Makerbot's Thingiverse and Yeggi offer online communities for sharing and downloading 3D printing files.
When you're ready to print, the 3D printer uses a material such as plastic or metal to create a three-dimensional object layer by layer. In manufacturing, this is known as an additive process.
How Much Is a 3D Printer?
Large 3D printers mostly cater to schools, design studios, shop floors, engineering or industrial companies, and other community maker spaces. As shared devices, these printers have professional grade features, a large physical footprint, and a hefty price tag to boot.
At the top of the line, you find devices like the Ultimaker 3, a plastic filament printer that caters to professionals and supports dual print cores, meaning it can print using two different material types or colors. In 2018, it clocks in at an MSRP of $3,495. The less feature-rich Ultimaker 2+ comes in at $2,499.
Similarly, the touch-screen-equipped Form 2 from Formlabs supports custom resin types and retails for $3,499. In the midrange, LulzBot's lineup focuses on the enthusiast community, featuring open source hardware – meaning community members can create and share modifications to the printer. The LulzBot Mini goes for about $1,250. Even more affordable is the FlashForge Creator Pro 2017.
Desktop Options
Hobbyists and beginners need not be left out of the 3D printing revolution. The da Vinci Mini from XYZprinting, for example, focuses on ease of use and sits comfortably on a desktop. It also sports a more comfortable MSRP of $289.95. If you want to print in two colors, the da Vinci Jr. 2.0 Mix bumps up the price tag to $449.95.
If you prioritize size and quiet operation, the lightweight, cube-shaped M3D Micro 3D Printer can be had for $349, although it only prints small models. As a middle-ground option, the Robo 3D R1+ can print larger models with multiple filaments at an MSRP of $799.99.
How Much Does 3D Print Material Cost?
3D print material is typically sold by the spool, with spool sizes ranging from 1 to 3 kilograms. According to MakerBot's estimates, one kilogram of material is enough to print about 392 chess pieces.
Nylon-based filament is among the most affordable, coming in around $18 per kilogram. Plastic filaments, the most common type, usually range from around $20 to $50 per kilogram. Filaments that mimic the properties of wood, metal and carbon fiber range from around $50 to $120 per 1-kilogram spool, while experimental electricity conducting filament goes for about $70 for just 100 grams.
What About MakerBot?
MakerBot's name shows up on standalone desktop 3D printers, but the company – founded in 2009 – has made a name for itself by bundling printers and material with 3D printing education and an active community of makers.
The company's MakerBot Certification Bundle includes its Replicator+ Desktop 3D Printer, a 10-pack of plastic filament, a one-year warranty, and the online MakerBot Certification Program course for the price of $2,998 ($529 less than all the components would cost if purchased separately) as of 2018 prices.
3D Printing Innovations
The adoption rate for 3D printing among American companies in 2016 was 4 percent. By 2021, that figure is projected to leap to about 36percent. Not only is the tech behind 3D printing improving, leading to sturdier and more detailed models – not to mention large-scale applications ranging from printing medical supplies to entire houses – the prices for personal models are dropping as proliferation increases. In 2013, for instance, 3D Systems' desktop-sized Cube 3D printer retailed for $1,299. The last Cube model, the Cube 3 from 2015, was introduced at an MSRP of $999 – that's a 23-percent price reduction in just three years.