In 2017, research shows one in three Americans broke their phones. If you've ever unsuccessfully let a soaked phone sit in a bag of rice overnight or cracked your iPhone's screen to the point that it becomes unusable, you know the feeling. Backing up your iPhone to Apple's own cloud storage service, iCloud, may not save your hardware, but it can save your most important data. Even if you're not accident prone, iCloud backups make transitioning to your next iPhone a painless process. Apple's iCloud is free to use and available on all iPhones running iOS 5 or above, which includes everything from the iPhone 4S through the iPhone X. ICloud is also available on the iPad and iPod Touch devices running iOS 5 and later.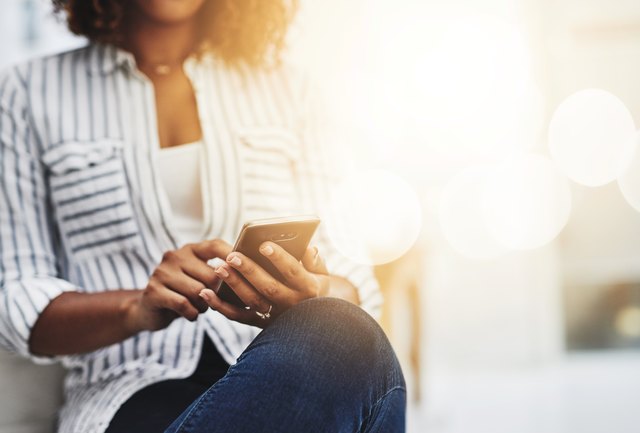 credit: PeopleImages/E+/GettyImages
How Do I Back Up My iPhone to iCloud?
To enable iCloud backup, connect your iPhone to Wi-Fi and open the iPhone's "Settings" app. Tap your name and select "iCloud." If your phone has iOS 10.2 or earlier, you need to scroll down a bit to find the iCloud settings.
Tap "iCloud Backup" (or just "Backup" on pre-iOS 10.2 phones) and tap the slider so that it's in the "on" position. Below the slider, you'll see the option to "Back Up Now." Tap that option and stay connected to Wi-Fi until the backup process is complete. Below the "Back Up Now" option, you'll see the date and time of your last backup.
How Do I Set iCloud to Back Up Automatically?
Although you have the option to do so, you don't have to access iCloud and manually back up your data every time you want a little digital peace of mind. ICloud is designed to be an automatic service that runs in the background – just make sure that the slider next to "iCloud Backup" is set to the On position, and you're good to go.
Managing Your iCloud Backup
To see how much iCloud storage space you have left, tap "Settings," your name and "iCloud." The amount of storage space you have used and the amount of space left is listed in the Storage section at the top of the screen. On devices before iOS 10.3, tap "Settings, "iCloud" and then "Storage."
If you want to free up some space, tap "Manage Storage" under your iCloud settings to see the apps that are using iCloud and the amount of space each one takes up. Tap an item and click "Delete Data" or "Turn Off and Delete" to remove the data for that particular app from iCloud. If you're an avid iPhone photographer, deleting pictures in your Photos app frees up space too.
ICloud includes five gigabytes of free storage, but you can buy more space via a monthly subscription that starts at $0.99 per month for 50GB as of 2018. If you need to upgrade, tap "Buy More Storage" or "Change Storage Plan" under your iCloud settings.
How Do I Back Up My iPhone Without iCloud?
When it comes to smartphone data, you can never have too many backups. For extra security, all you need is a computer with the latest version of iTunes.
Open iTunes and connect your iPhone to your computer via a USB cable. If you've never done this before or are using a new computer, you may be prompted to enter your passcode and follow a few onscreen steps to verify the computer.
Click the iPhone icon that appears in iTunes, check the box next to "This computer" under the "Automatically Back Up" heading, and then click the "Back Up Now" button. Backing up may take a few minutes, but when the process is done, you'll see a successful summary right there in the "Backups" menu. Under the "Back Up Now" button, iTunes lists the date and time of the latest backup.