If you're a tech enthusiast, you've probably seen articles about the Raspberry Pi. It's a tiny computer about the size of a baseball card that was launched in 2012 by an English nonprofit organization. That doesn't explain what it is, though, any more than "deliberately spoiled milk" describes a fine cheese. In practice, it's the tech equivalent of a magic carpet, able to take a creative mind anywhere imaginable.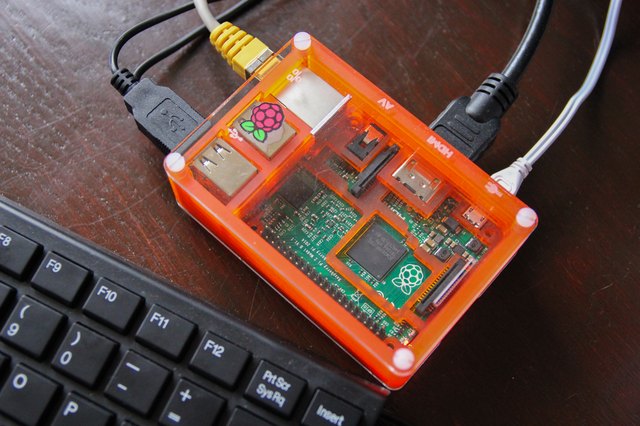 credit: Emma Gibbs/Moment/GettyImages
What Is Raspberry Pi?
Physically the Raspberry Pi isn't impressive, and it isn't what you'd envision as a computer. Most models are roughly 3 1/3 inches by a little over 2 inches, and the tiny Pi Zero and Pi Zero W are only 2 1/2 inches by a little over 1 inch. It's a bare board containing a System On a Chip processor, or SOC, and a variety of connections for power, networking, and a monitor and keyboard. Those are all things that you'll have to add on your own because the whole point of the Pi is to provide basic computing at a very, very low price. Real-world pricing depends on where in the world you are and which model you opt for, but list price typically starts at $35 for a bare-bones Pi or as low as $5 for a Pi Zero. Even if you have to pull an old monitor and keyboard out of your closet to make it work, that's a cheap computer.
What Was It Designed For?
Those low prices were a deliberate choice made by the Raspberry Pi Foundation, the UK-based charity that created these tiny computers. The foundation's goal was to make computing accessible and affordable for kids and educators, so youngsters could learn to create software and build high-tech tools instead of merely using them. By the end of 2017, hundreds of thousands of kids were participating in Pi-sponsored Code Clubs and CoderDojos around the world, and it's impossible to know how many are learning with the Pi in less formal settings. Aside from children and teachers, a number of other communities – from tech hobbyists to professional engineers – have enthusiastically embraced the Raspberry Pi for its versatility and low cost. It was intended for use as a general purpose controller, but its small size, cost and power consumption make it an ideal platform for tinkering.
Is the Raspberry Pi a Microcontroller?
A lot of that tinkering boils down to using the Pi as a microcontroller to operate a specific circuit or operate a sensor or a small piece of machinery. Out of the box, it's a multipurpose tool, like a Swiss Army knife, but it's cheap enough and capable enough that you can dedicate one to a single-use project. That use could be almost anything, depending on the skills you have and the problems you're trying to solve. You can tweak a Pi to be the brain of a home-built robot, to text you when someone rings the doorbell, or to stream movies to your TV. You can use it as a microcontroller, but it's much more.
How Do You Set Up a Raspberry Pi?
Most home computers use either Windows or the macOS operating system, but the Pi isn't designed to run those. Instead, it uses a customized version of the Debian operating system – a form of Linux – called Raspbian. The simplest way to set up a Pi is by purchasing an SD card with the Foundation's New Out Of Box Software, or NOOBS, already on it or by downloading the software and creating your own. Connect a monitor and keyboard, insert the SD card into the card slot, and connect a micro-USB power supply to the Pi. When it boots up, a window will appear asking which OS you want to install. Tick the check box next to Raspbian, or one of the other operating systems if you prefer, and then click "Install." Once the installation is finished you'll be prompted to set the date and time and enable any added devices. Then, you hit the "Tab" key to get to the "Finish" button. From there, current Pis boot straight to a graphical desktop. On older Pis, you have to type "startx" to load the desktop.
Other OS Options
Raspbian isn't the only operating system you can use on the Pi, though a lot of the documentation assumes you're using it. You could opt instead for any number of similar operating systems, including the easy-to-use Ubuntu MATE, Ubuntu Core – which is used in many commercial "internet of things" devices – and several other versions of Linux and of BSD, another free operating system Apple used as the base for its OS X. Most of these operating systems have their own webpages and wikis, so if you aren't familiar with them, you can research them in advance and choose one that seems to suit your needs. If you're coming from a Windows or Mac environment, your best choice might be Ubuntu MATE. It offers preset screen layouts designed to look like Windows or macOS, which can help make the transition easier for you. It'll be an adjustment, but learning to do new things is what the Raspberry Pi is all about.
Getting Started With Raspberry Pi
Once you have your Pi, the next step is to pick a project. If your goal is to learn to code, the Foundation's website, its magazine, and any number of online tutorials, forums and communities can help you on your way. If you're more interested in building something physical to run with your Pi, you can purchase ready-made kits from most Pi resellers. Building from a kit doesn't give you the same kind of bragging rights as designing one from the ground up, but it's a useful step if you're starting out and want to know how everything works. At the simplest level, you can treat the Pi as a computer and use it to do something. You could turn a Pi into the ultimate media center, for example, by giving it a network connection and an external hard drive, and then installing a program such as Kodi or Plex. It could pull together the programming from your TV provider, along with your streaming services, movies you own in digital form, and all of your music and photos, and then stream any of that to any networked device in your house. It's a pretty impressive starting point, and you don't need to know how to program or build anything.