When you first get your PlayStation 4, you're bound to be excited about playing the next-gen games, but you might be unsure what you need to do. Sony has made the setup process for the PS4 easy, and you'll be ready to start playing games on your PS4 in no time. In addition to playing your PS4 disc-based games on your console, playing PS4 games on your computer and listening to music while you play a PS4 game are all easy processes. You'll be getting the most out of your new console before you know it.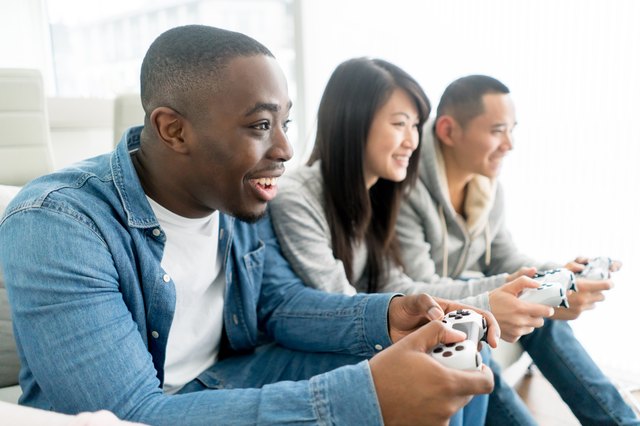 credit: andresr/E+/GettyImages
Getting Started With Your PS4
Getting started with your PS4 means connecting all the cables, connecting your console to the internet, and setting up your controller. To do this, connect the power cable to the AC port on the back of your PS4 and insert the plug into a wall outlet. Then connect the HDMI cable from the "HDMI Out" port on the back of the console and into your TV. You can insert a LAN cable if you're connecting to the internet over a wire, but the PS4 comes with Wi-Fi, so this isn't necessary. Connect your controller to the USB port on the front of the PS4 and attach the micro USB end to the port between the triggers on the controller.
Turn on your PS4 and switch your TV to the appropriate HDMI channel. Select your language and then set up your internet connection. The easiest way to do this is to select "Use Wi-Fi," then "Easy" before selecting your network from the list of available Wi-Fi networks. Set the date and time on your console and accept the user agreement, and you're ready to go. If you want to connect to the PlayStation Network to download games or apps and use network features of games, create an account or sign in with your existing one when prompted.
How to Play Disc-Based Games
If you have a PS4 game on a disc, you can get it up and running quickly. Insert the game into the disc slot of the PS4, and you'll see it appear on the home screen. When you first insert a game, it is installed onto the system. Wait for this process to complete and click on the icon for the game to start playing it. You may need to install an update for the game before playing if you want to play online, but if you want to play offline and don't want to wait for an update, you can select "Start Application without Updating" when prompted and start playing your game right away.
Can a PS4 Game Be Played on a Computer?
You can play PS4 games on a computer using Remote Play or by signing up to PlayStation Now. Remote Play allows you to play on a computer without a monthly subscription fee, but you can only play games you already own. At PlayStation Now, you get access to a library of games for a monthly fee.
Set up your PS4 for Remote Play by going to "Settings." Choose "Remote Play Connection Settings" from the menu and check the box beside "Enable Remote Play." Return to the "Settings" menu and choose "PlayStation Network/Account Management." From this menu, select "Activate as Your Primary PS4" and then "Activate." Finally, go to "Settings," then "Power Save Settings," and "Set Features Available in Rest Mode." Make sure "Stay Connected to the Internet" and "Enable Turning on PS4 from Network" are checked.
Set up your PC or Mac for Remote Play by downloading the installation file for the program (see Resources) and running it. Follow the instructions to install the program and set up your computer. When this is complete, connect the PS4 controller to your computer using a USB cable, turn on the PS4, and launch PS4 Remote Play from your computer. Sign in at the PlayStation Network and start playing your games.
To play using PlayStation Now, download and install the app (see Resources), sign in at the PlayStation Network and connect your controller to your computer via USB to start playing.
Can I Play Music on My PS4 While Playing a Game?
You can listen to music while playing games on your PS4, either through your Spotify app or from a USB storage device.
To play from a USB storage device, insert the device into the USB port of your PS4 and choose "Library" from the PS4's home menu. Select "USB Music Player" and from there, you can play whichever songs you want to.
To play from Spotify, launch the Spotify app and sign in if necessary using the same login you use when you sign in from the desktop or your cellphone. Navigate to the playlist, song or album you want to play and start it.
Launch your game. The music plays in the background, and you can control basic functions such as skipping songs, pausing, and adjusting the volume by holding down the PlayStation button on your controller and bringing up the Quick Menu. The L1 and R1 buttons skip songs, left and right buttons adjust the volume, and X pauses or resumes playback.
Can You Burn PlayStation 4 Games?
While you can theoretically burn a PlayStation 4 game onto a new Blu-ray Disc, the PlayStation 4 has onboard protection that prevents you from playing any nonoriginal game discs on the console. The only ways to play a PlayStation 4 game are to either buy the original game, download it from the PlayStation Network store or subscribe to the PlayStation Now service.