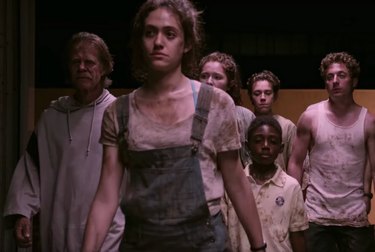 There's no better time to sit on the couch and watch Netflix than in the heat of the summer. Thankfully, Netflix is hooking us up with some pretty solid entertainment in July.
If you need a refresher in all things Jurassic before you see Jurassic World: Fallen Kingdom in the theater, you're in luck—the first three Jurassic Park movies are making their way to Netflix next month.
As for TV, you'll be able to watch new episodes of Jerry Seinfeld's Comedians in Cars Getting Coffee, season 6 of Orange Is the New Black, season 8 of Shameless, and the final season of The Fosters. And if you need some laughter in your life, Iliza Shlesinger, Jim Kefferies, and Kevin Hart all have brand new hour specials.
For the kiddos, there's Scooby-Doo, Scooby-Doo 2: Monsters Unleashed, The Princess Diaries, Disney's Bolt, and season 4 of Sofia the First.
Here's the rest of the lineup:
July 1st
Interview with the Vampire
Journey to the Center of the Earth
Madam Secretary: Season 4
Queens of Comedy: Season 2
Rica, Famosa, Latina: Seasons 1-4
Scooby-Doo 2: Monsters Unleashed
The Lost World: Jurassic Park
July 2nd
Dance Academy: The Comeback
July 3rd
The Comedy Lineup (Netflix Original)
July 5th
July 6th
Anne with an E: Season 2 (Netflix Original)
Comedians in Cars Getting Coffee: Freshly Brewed (Netflix Original)
First Team: Juventus: Season 1: Part B (Netflix Original)
Free Rein: Season 2 (Netflix Original)
Inside the World's Toughest Prisons: Season 2 (Netflix Original)
Sacred Games (Netflix Original)
Samantha! (Netflix Original)
Somebody Feed Phil: The Second Course (Netflix Original)
The Legacy of a Whitetail Deer Hunter (Netflix Film)
The Skin of The Wolf (Netflix Film)
White Fang (Netflix Film)
July 7th
July 9th
Lockup: Extended Stay: Collection 1
July 10th
Drug Lords: Season 2 (Netflix Original)
July 12th
July 13th
How It Ends (Netflix Film)
Jim Jefferies: This Is Me Now (Netflix Original)
Kevin Hart: Let Me Explain
Sugar Rush (Netflix Original)
The Epic Tales of Captain Underpants (Netflix Original)
July 15th
Bonusfamiljen: Season 2 (Netflix Original)
The Joel McHale Show with Joel McHale: Part 2 (Netflix Original)
July 20th
Amazing Interiors (Netflix Original)
Dark Tourist (Netflix Original)
Deep Undercover: Collection 3
Duck Duck Goose (Netflix Film)
Father of the Year (Netflix Film)
Fix It and Finish It: Collection 3
Home: Adventures with Tip & Oh: Season 4 (Netflix Original)
Jimmy: The True Story of a True Idiot (Netflix Original)
Last Chance U: EMCC & Life After (Netflix Original)
Last Chance U: INDY: Part 1 (Netflix Original)
Luna Petunia: Return to Amazia: Season 2 (Netflix Original)
July 22nd
July 24th
El Aviso (The Warning) (Netflix Film)
Iliza Shlesinger: Elder Millennial (Netflix Original)
July 27th
Cupcake & Dino - General Services (Netflix Original)
Extinction (Netflix Original)
Orange Is the New Black: Season 6 (Netflix Original)
Roman Empire: Reign of Blood: Master of Rome (Netflix Original)
The Bleeding Edge (Netflix Original)
The Worst Witch: Season 2 (Netflix Original)
Welcome to the Family (Netflix Original)
July 28th
July 29th
Sofia the First: Season 4
July 30th
A Very Secret Service: Season 2 (Netflix Original)
July 31st
Terrace House: Opening New Doors: Part 3 (Netflix Original)
Coming Soon