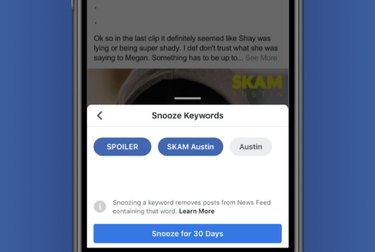 Facebook is testing a feature that will give you more control over the topics you see on your News Feed. So, if you're tired of one too many Handmaid's Tale spoilers, or if you're over political conversations, this could be good news for you.
In a blog post on Wednesday, News Feed Product Manager Shruthi Muraleedharan announced that Facebook is beginning to test Keyword Snooze, a new addition to the current suite of News Feed controls.
You can temporarily hide posts by keywords by snoozing an exact word or phrase pulled directly from text by a person, Page, or Group for 30 days. So, fewer posts about things you just don't want to see so you can focus on the posts that matter—like adorable kittens and toddlers doing funny things. Or whatever.
As of now, the feature doesn't allow you to mute any keyword you want. It's only available on certain posts, which really defeats the purpose. Facebook told Gizmodo that it's "looking to add in a freeform feature so people can add in their own keywords in the next few weeks as we iterate on the control."
Keyword Snooze is currently being tested on select users in the U.S. and a few other countries. It should roll out to everyone else later this year.