Well, here's something you don't see every day. Designers Andrew Greenbaum and Ian Felton have launched a Kickstarter campaign to fund a rather unusual product—a pink pool raft shaped like a coffin. Yep, a coffin.
The Pink Coffin Pool Toy is literally a floating coffin. It's confusing and odd, but if you're into that sort of thing, then it would probably make an interesting addition to your raft collection.
Greenbaum and Felton's mission is to "define a brand that can exist between the art world and that of commerce." So, it's basically a floating art piece that'll help you get a tan.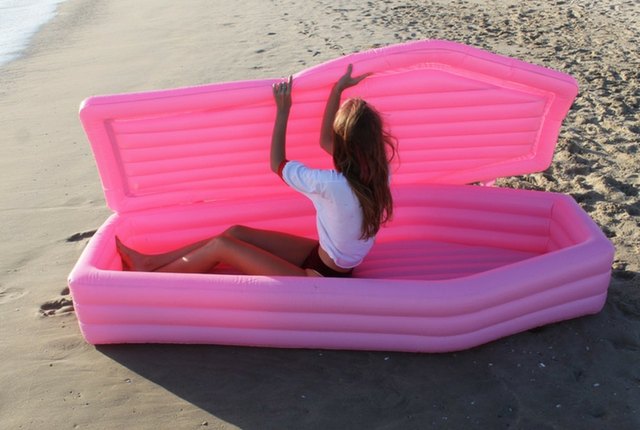 To be honest, if you don't put the lid on the coffin, it's a pretty legit way to lounge in the water without getting wet. But, it's still a coffin, which is something you may or may not want to have to explain to onlookers.
Pledge $120 to get your very own pink coffin sent to your home, but that's only if the campaign reaches it's goal. Currently, only 2 percent of the funds have been raised, but anything's possible. Click here to check it out.