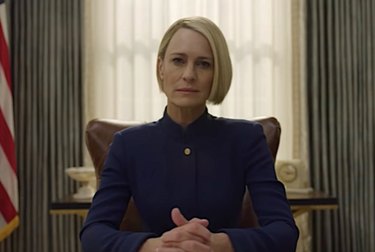 It's officially Christmas movie season—at least according to all the streaming services releasing tons of Christmas movies. Netflix is following suit by releasing a handful movies that'll make you want to deck the halls with boughs of holly and jingle all the bells. Or they'll make you want to strictly watch anything but Christmas movies. The choice is yours.
There are a bunch of really great movies being added to the Netflix lineup, including Cape Fear, Sixteen Candles, Good Will Hunting, National Lampoon's Animal House, Close Encounters of the Third Kind, Disney's Pirates of the Caribbean: At World's End, The English Patient, and Sex and the City: The Movie.
Let's not forget about all the binging you'll be able to do on TV shows, including the final season of House of Cards, the reboot of She-Ra and the Princess of Power, season 4 of Trolls: The Beat Goes On, season 3 of Frontier, collection 6 of The Great British Baking Show, and season 3 of F is for Family.
Here's everything coming in November:
November 1st
Bring It On: In It to Win It
Close Encounters of the Third Kind
Deuce Bigalow: European Gigolo
Fair Game - Director's Cut
Katt Williams: The Pimp Chronicles: Pt. 1
National Lampoon's Animal House
Next Avengers: Heroes of Tomorrow
Sex and the City: The Movie
The Untold Tales of Armistead Maupin
The Water Horse: Legend of the Deep
November 2nd
ReMastered: Tricky Dick & The Man in Black
The Other Side of the Wind
They'll Love Me When I'm Dead
Trolls: The Beat Goes On!: Season 4
November 3rd
Hoodwinked Too! Hood vs. Evil
November 4th
Disney's Pirates of the Caribbean: At World's End
Patriot Act with Hasan Minhaj (Streaming Every Sunday)
November 5th
John Leguizamo's Latin History for Morons
November 7th
November 8th
November 9th
Spirit Riding Free: Season 7
The Great British Baking Show: Collection 6
Treehouse Detectives: Season 2
November 12th
November 13th
Loudon Wainwright III: Surviving Twin
November 15th
November 16th
Narcos: Mexico (NETFLIX ORIGINAL)
Ponysitters Club: Season 2
She-Ra and the Princesses of Power
The Ballad of Buster Scruggs
November 18th
November 19th
The Last Kingdom: Season 3
November 20th
Trevor Noah: Son of Patricia
November 21st
November 22nd
Mystery Science Theater 3000: The Gauntlet
November 23rd
Sick Note and Sick Note: Season 2
To Build or Not to Build: Season 2
November 25th
My Little Pony Friendship is Magic: Best Gift Ever
November 27th
Bumping Mics with Jeff Ross & Dave Attel
November 29th
November 30th
A Christmas Prince: The Royal Wedding
F is for Family: Season 3
Spy Kids: Mission Critical: Season 2