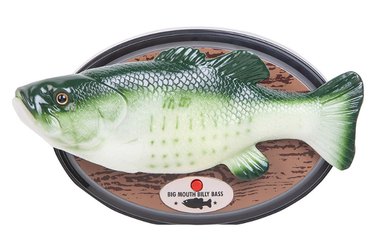 Big Mouth Billy Bass got an upgrade. The singing, dancing fish you likely forgot about now works with Amazon Alexa, just in time for the holidays. The bass can connect directly to Amazon Echo, Echo Dot, Echo Show, or other compatible Echo devices.
When you ask Alexa questions, like an update on the news, weather, or whatever random facts you want, Big Mouth Bill Bass will lip sync the responses. He also reacts to alarms, timers, and other notifications by moving his head and tail.
Of course, the fish still sings "Fishin' Time," the original song he sang when he was released back in 1999.
"This is not your father's Big Mouth Billy Bass," said Steven Harris, Vice President of Product Development at Gemmy Industries. "Our new high-tech version uses the latest technology from Amazon to deliver a hilarious and interactive gadget that takes everyday activities to a fun new level."
Big Mouth Bill Bass is available for preorder on Amazon for $40.