We all want white teeth. But things like coffee, red wine, and food tend to stand in our way. You know, the good things in life. Well, that's about to change, folks.
You've probably tried different types of teeth whitening (if you haven't, now's the time), but there's one in particular worth checking out—because it works, it's quick, and it doesn't taste terrible.
SmileDirectClub's new bright on premium teeth whitening system is designed to remove the stains that have been on your teeth forever—so the newer stains definitely don't stand a chance. It works three times faster than the average whitening strips, so you only need to keep it in for five minutes twice a day for one week to complete a full treatment.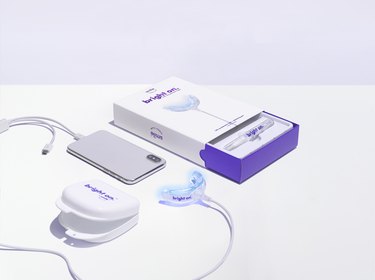 The formula is vegan, it's made up of only four ingredients, and it contains the same enamel-safe whitening agent used by dentists.
But here's the cool part: To use it, you plug an LED accelerator light into your smartphone for power. The formula is intensified by the light, whitening your teeth quicker and more efficiently.
Buy bright on at Amazon or at SmileDirectClub. The LED light with one whitening pen is $49; the full whitening kit, including LED light and nine whitening pens is $79; and extra pens are sold in packs of four for $29 or eight for $49.