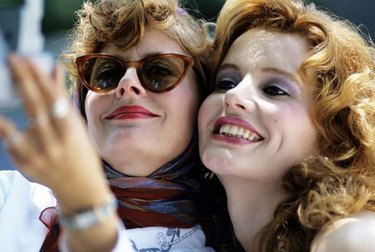 February is going to be a big month for Hulu. The streaming service is bringing on lots of really great movies, along with a handful of TV shows.
Most notably, a bunch of old school movies are coming your way, including Mystic Pizza, Thelma & Louise, Dazed and Confused, Caddyshack, Caddyshack II, The Big Lebowski, Four Weddings and a Funeral, Field of Dreams, Untamed Heart, Terminator 2: Judgement Day, Wayne's World, Wayne's World 2, and _Space Jam_—to name a few.
As far as TV goes, you'll be able to watch season 10 of Real Housewives of New York City, the series premieres of Proven Innocent and The Enemy Within, season 16 premiere of The Voice, season 3 premiere of World of Dance, seasons 1 to 3 of Saints & Sinners, and season two of Legion.
February 1st
Into The Dark: Down: Episode 5 Premiere (Hulu Original)
Record of Grancrest War: Complete Season 1 (Aniplex)
Asterix & Obelix: Mission Cleopatre (2002)
The Bourne Ultimatum (2007)
Born on the Fourth of July (1989)
Broadway Danny Rose (1984)
Charlie and the Chocolate Factory (2005)
Dazed and Confused (1993)
Escape from Alcatraz (1979)
For Your Eyes Only (1981)
Four Weddings and a Funeral (1994)
From Russia with Love (1964)
Hellboy II: The Golden Army (2008)
Lara Croft: Tomb Raider (2001)
Lars and the Real Girl (2007)
The Madness of King George (1994)
Mississippi Burning (1988)
Mortal Kombat Annihilation (1997)
On Her Majesty's Secret Service (1969)
The Portrait of a Lady (1996)
The Purple Rose of Cairo (1985)
Robin Hood: Prince of Thieves (1991)
The Royal Tenenbaums (1997)
Terminator 2: Judgement Day (1991)
The Thomas Crown Affair (1999)
The Thomas Crown Affair (1968)
Tomorrow Never Dies (1997)
Wes Craven Presents: Dracula 2000 (2000)
While You Were Sleeping (1995)
February 2nd
Pick of the Litter (2018)
February 3rd
Legion: Complete Season 2 (FX)
February 4th
Saints & Sinners: Complete Seasons 1-3 (Bounce TV)
Real Housewives of New York City: Complete Season 10 (Bravo)
February 5th
February 8th
PEN15: Complete Season 1 Premiere (Hulu Original)
February 9th
The Preppie Connection (2016)
February 10th
February 11th
February 14th
False Flag: Complete Season 2 (Keshet)
Zac & Mia: Complete Season 2 (Awesomeness)
February 15th
_Bondi Harves_t: Complete Season 1 (Fremantle)
Jamie's Quick and Easy: Complete Seasons 1-2 (Fremantle)
February 16th
Proven Innocent: Series Premiere (FOX)
February 17th
February 18th
Elvis All-Star Tribute: Special (NBC)
The Sisters Brothers (2018)
February 20th
Stan Against Evil: Complete Season 3 (IFC)
February 23rd
February 25th
Archer: Danger Island: Complete Season 9 (FX)
February 26th
The Enemy Within: Series Premiere (NBC)
The Voice: Season 16 Premiere (NBC)
Three Identical Strangers (2018)
February 27th
World of Dance: Season 3 Premiere (NBC)
February 28th
Whiskey Cavalier: Season 1 Mid-Season Premiere (ABC)
Available with the STARZ premium add-on:
Tangled (2010) (February 2nd)
Brave (2012) (February 2nd)
Cars 2 (2011) (February 9th)
Toy Story 3 (2010) (February 9th)
Gnomeo & Juliet (2011) (February 16th)
Wreck-It Ralph (2012) (February 16th)
Slender Man (2018) (February 23rd)
Available with the HBO premium add-on:
O.G. (2018) (February 23rd)
Available with the SHOWTIME premium add-on:
Desus & Mero: Series Premiere (February 21st)
American Pie (1999) (February 1st)
American Pie 2 (2001) (February 1st)
American Wedding (2003) (February 1st)
Whitney: Can I Be Me (2017) (February 1st)