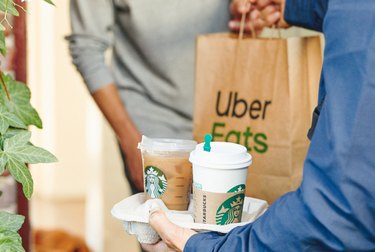 Starbucks just announced a partnership with Uber Eats that will allow you to skip the lines and have your coffee and snacks delivered directly to your home or office.
For now, only seven major U.S. cities will be participating in the new Starbucks/Uber Eats program, with the delivery program eventually rolling out nationwide. The partnership has already launched in Miami and San Francisco, and in the next few weeks, it'll roll out to Boston, Chicago, Los Angeles, Washington D.C., and New York.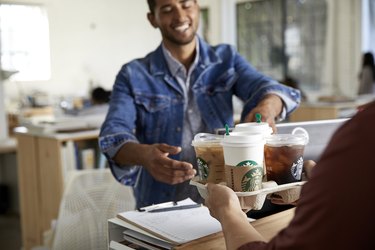 According to Starbucks, the service will be available in about a quarter of its stores, which equals around 3,500 branches. Customers will be able to use Uber Eats to order approximately 95 percent of the menu items, plus they'll be able to customize their orders just like the would in person. Delivery orders will come with a $2.49 booking fee.
As far as keeping the beverages and food warm, the company has come up with "packaging solutions" to ensure the coffee stays hot during the promised 30 minute delivery time.