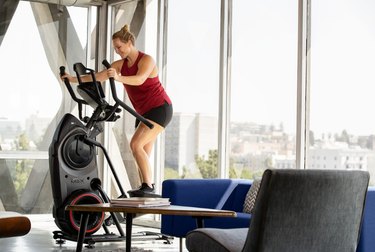 Bowflex wants to help you take your fitness to the next level. The Bowflex Max Trainer cardio machine now incorporates artificial intelligence, and if you let it, it's going to kick your ass (in the best way, of course). I know this, because I tested the machine, and it kicked my ass.
The AI helps you step up your game (literally... because steps) by offering customized workouts that, according to the company, are as unique as your fingerprint. So, in other words, whatever type of workout you need, a cloud-based, adaptive coaching technology using AI has your back (aka a trainer). In addition, you can track your progress and earn rewards, and you can even explore the world through various scenery changes.
The trainer encourages you to keep going by providing instructions and motivating commentary like "Awesome! There went 100 calories" and "Bring the fire!"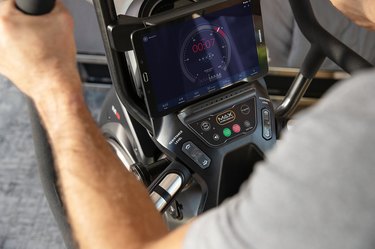 Custom programs are built based on how you're feeling, how much time you have, your past performance, and your feedback from workouts you've already done. Choose from a library of trainer-led videos and educational content recommended specifically for you. New workouts will automatically be added regularly.
The new technology is available through the Max Intelligence app for the new Bowflex Max Trainer M6 and M8 machines ($149 a year).
The M6 features 16 resistance levels and Bluetooth compatibility along with Max Intelligence compatibility. It stores up to two user profiles so multiple people can get the most out of the machine. The M6 is available for purchase online for $1,699.
The M8 has 20 resistance levels, Bluetooth compatibility, a burn rate display, enhanced dual-mode LCD/LED screens, multi-grip dynamic handles, aerobars, and a premium media rack. It stores up to four user profiles. The M8 is also available with the M8 Performance Pack, which includes the customized Samsung Galaxy Tab E tablet, a Bowflex mat and an armband heart rate monitor. The M8 is available for purchase online for $2,299, and the M8 Performance Pack is available for $2,599.
As long as you own your a smartphone or a tablet, you don't really need to pay extra for a Samsung Galaxy tablet, as all you need is access to the app.
Also, Bowflex offers in-home setup for $169 if you aren't into the idea of building your own machine, as it arrives on your doorstep in two big boxes. Plus, it doesn't take up too much space in your house, so that's nice. Click here to get started.