Hey Gumshoes, Carmen Sandiego is back and making her way through Google Maps—and you've been tasked with finding her.
In partnership with Houghton Mifflin Harcourt, Google is releasing a series of games for Google Earth. First up is The Crown Jewels Caper. Playing it will feel like the old school Carmen Sandiego PC game where you'll visit various landmarks around the world, talk to locals, and determine Sandiego's next destination from the clues you receive.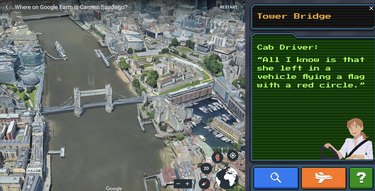 Once you learn a bit about each location and then figure out where Sandiego's next stop is, you'll be taken to the next real-life spot on Google Maps.
The game is promoting Netflix's new animated Carmen Sandiego show, which is streaming now. To get started, Google says to look for the special-edition Pegman icon. The game can be played on Chrome, iOS, and Android.