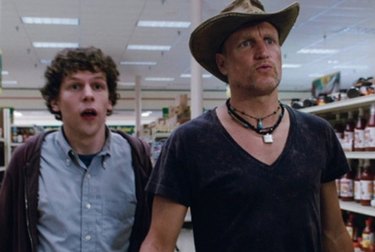 Hulu is all about movies in May, and there's something for everyone.
The streaming service is bringing on The Birdcage, Center Stage, Anger Management, Chocolat, Flashdance, The Green Mile, Julie & Julia, Kazaam, Mermaids, Major League, Under Siege, Twelve Monkeys, Zombieland, The Clovehitch Killer, The Punisher, Knocked Up, and Crash. See? Something for everyone.
If TV is more your thing, there's something for you too. There are a whole bunch of season premieres heading your way, including Broad City, The Bachelorette, Marvel's Agent of S.H.I.E.L.D, America's Got Talent, and the every episode of Baywatch.
May 1st
Borat: Learning of America for Make Benefit Glorious Nation Kazakhstan (2006)
Dazed and Confused (1993)
Deuce Bigalow: Male Gigolo (1999)
The English Patient (1996)
Hunt for the Skinwalker (2018)
Imagine Me and You (2005)
Kygo: Stole the Show (2017)
Laddie: The Man Behind the Movies (2017)
The Night We Never Met (1993)
The Pursuit of D.B. Cooper (1981)
Repo! The Genetic Opera (2008)
Things You Can Tell Just by Looking at Her (2001)
Twice Upon a Yesterday (1999)
May 2nd
Dies Irae: Complete Season 1
May 3rd
Into The Dark: All That We Destroy: Episode 8 Premiere
Don't Believe the Hype: Complete Season 1
Everything's For Sale: Complete Season 1
Jobs Unlisted: Complete Season 1
Price the Hype: Complete Season 1
The Yellow Handkerchief (2008)
May 4th
Drunk History: Complete Season 6
The Clovehitch Killer (2018)
May 6th
May 7th
My Hero Academia: Complete Season 3
May 8th
May 9th
May 10th
May 11th
Marvel's Agent of S.H.I.E.L.D: Season 6 Premiere
One Million American Dreams (2018)
May 12th
May 13th
Angels of Death: Complete Season 1
May 14th
The Bachelorette: Season 15 Premiere
May 15th
Big Bad BBQ Brawl: Complete Season 2
Bobby Flay's Barbecue Addiction: Complete Season 4
Burgers, Brews & 'Que: Complete Seasons 1-3
Cash Cab: Complete Season 13
Counting On: Complete Seasons 2-3
Diesel Brothers: Complete Seasons 3-4
Eat, Sleep, BBQ: Complete Season 1
Four Weddings: Complete Seasons 7-8
I Found the Gown: Complete Seasons 2-3
La Promesa: Complete Season 1
Love It or List It: Complete Season 12
The Little Couple: Complete Seasons 11-12
May 16th
MasterChef Celebrity Family Showdown: Special Part 1
May 17th
Catch-22: Complete Series Premiere
Punisher: War Zone (2008)
May 18th
Thanks for Sharing (2013)
The Riot and the Dance: Earth (2018)
May 20th
May 21st
Preacher: Complete Season 3
Bernie the Dolphin (2018)
May 22nd
May 23rd
Baywatch: Complete Series
MasterChef Celebrity Family Showdown: Special Part 2
Lulu on the Bridge (2011)
May 26th
May 27th
Broad City: Complete Season 5
May 28th
May 29th
America's Got Talent: Season 14 Premiere
Songland: Series Premiere
The Terror: Complete Season 1
May 30th
American Ninja Warrior: Season 11 Premiere
Angie Tribeca: Complete Season 4