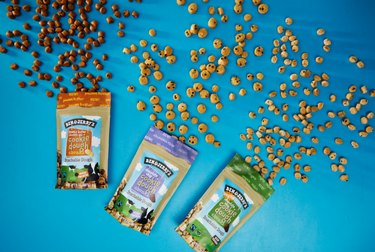 I don't know about you, but when I think about '90s snacks, one of the first things that comes to mind is Ben & Jerry's Cookie Dough Ice Cream. I'd eat every last morsel of cookie dough and leave a bowl full of vanilla ice cream. Not because the ice cream wasn't delicious, but because cookie dough.
Well, welcome back to the best time in your life (or is it just my life?), because Ben & Jerry's just released snackable dough, and it tastes like everything happy that has ever happened to you.
The Cookie Dough Chunks are literally the chunks of cookie dough extracted from the ice cream. They are to be kept frozen and eaten with caution, because they are highly addictive. I know from experience—I just ate half a bag. Ben & Jerry's doesn't mess around when it comes to deliciousness, and you shouldn't either.
The dough chunks are available in three flavors: Chocolate Chip, Peanut Butter Chocolate Chip, and Vegan Chocolate Chip. They come in half pound bags, each with eight servings of the exact same dough found in the ice cream. It's safe to eat raw, because it contains pasteurized eggs and heat-treated flour.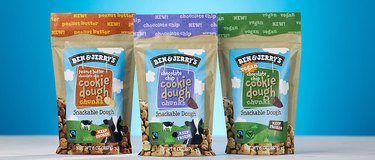 The Snackable Dough can be bought at Walmart, Target, Publix, Wakefern, Albertson's, and 7-Eleven. Or if you'd rather buy them from the comfort of your couch, go to the Ben & Jerry's website and place your order. Each bag is listed at $6.99, but other retailers will likely sell them for $4.99.