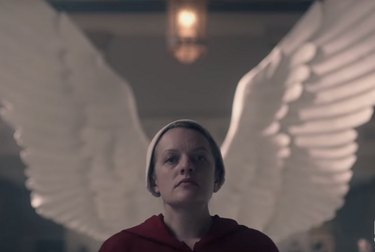 Hulu rarely disappoints, and June is no exception. Aside from its biggest draw—the third season of The Handmaid's Tale—_there's plenty more to look forward to, including Hulu's original documentary, _Ask Dr. Ruth. (Yes, that Dr. Ruth.)
If you want to watch hours and hours of horror, the first eight Friday the 13th movies will be available, as well as Night of the Living Dead 3D and Night of the Living Dead: Resurrection.
You'll also be able to check out some nostalgic hits, including Dante's Peak, Body of Evidence, The Burbs, Center Stage, Planes, Trains and Automobiles, Kindergarten Cop, Point Break, Private Parts, Reservoir Dogs, and Revenge of the Nerds II: Nerds in Paradise.
June 1st
Ask Dr. Ruth: Documentary Premiere (Hulu Original)
100 Things to do Before High School (2014)
A Brilliant Young Mind (2015)
Along Came a Spider (2001)
And You Thought Your Parents Were Weird! (1991)
Behind Enemy Lines (2001)
The Boy Who Cried Werewolf (2010)
The Devil Wears Prada (2006)
Dragonheart: A New Beginning (2000)
Dysfunktional Family (2003)
Friday the 13th – Part II (1981)
Friday the 13th – Part III (1982)
Friday the 13th – Part IV: The Final Chapter (1984)
Friday the 13th – Part V: A New Beginning (1985)
Friday the 13th – Part VI: Jason Lives (1986)
Friday the 13th – Part VII: The New Blood (1988)
Friday the 13th – Part VIII: Jason Takes Manhattan (1989)
Italian for Beginners (2000)
Legends of the Hidden Temple (2016)
Liar, Liar Vampire (2015)
Lost and Delirious (2001)
Mission: Impossible (1996)
Night of the Living Dead 3D (2006)
Night of the Living Dead: Resurrection (2012)
Planes, Trains and Automobiles (1987)
The People vs. George Lucas (2011)
Revenge of the Nerds II: Nerds in Paradise (1987)
The Rocky Horror Picture Show: Let's Do the Time Warp Again (2016)
Rugrats Tales from the Crib: Snow White (2005)
Rugrats Tales from the Crib: Three Jacks and a Beanstock (2006)
The Secret of NIMH (1982)
To Live and Die in L.A. (1985)
June 3rd
The Weekly: Series Premiere (Hulu Original)
June 4th
June 5th
The Handmaid's Tale: Season 3 Premiere (Hulu Original)
June 6th
Shakespeare in Love (1998)
June 7th
Into the Dark: They Come Knocking: Episode 9 Premiere (Hulu Original)
June 10th
Celebrity Family Feud: Season 5 Premiere (ABC)
The $100,000 Pyramid: Season 4 Premiere (ABC)
To Tell the Truth: Season 4 Premiere (ABC)
June 11th
So You Think You Can Dance: Season 16 Premiere (FOX)
June 13th
Card Sharks: Series Premiere (ABC)
First Responders Live: Series Premiere (FOX)
Match Game: Season 5 Premiere (ABC)
Press Your Luck: Series Premiere (ABC)
June 14th
No Strings Attached (2010)
June 15th
12 Monkeys: Complete Season 4 (SyFy)
A Walk on the Moon (1999)
Highlander IV: Endgame (2000)
Next Stop Wonderland (1998)
June 16th
The Riveras: Complete Season 3 (Telemundo)
June 17th
Das Boot: Complete Season 1 (Sonar):
June 18th
Grand Hotel: Series Premiere (ABC)
Star vs. The Forces of Evil: Complete Season 4 (Disney XD)
June 19th
Good Trouble: Season 2 Premiere (Freeform)
June 21st
Family Food Fight: Series Premiere (ABC)
Holey Moley: Series Premiere (ABC)
Reef Break: Series Premiere (ABC)
The Wall: Series Premiere (NBC)
Spin the Wheel: Series Premiere (FOX)
June 24th
June 28th
June 29th
The Spy Who Dumped Me (2018)
June 30th