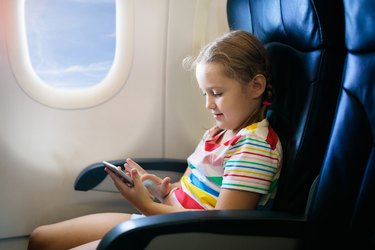 Flying with a preschool-aged child isn't for the faint of heart. In fact, it sucks. Hard. Little kids have a very hard time sitting still in a confined area for long periods of time (as do many adults), so when they decide they're 100 percent over flying, parents need to be ready with a bag of tricks.
Even if you're not thrilled with the idea of plopping your two to four-year-old in front of a tablet on a daily basis, it can be a life-saver on an airplane.
Here are five apps that should keep your child entertained on your next flight, at least for a few minutes:
Busy Shapes 2
A 3D puzzle game that's both fun and educational, Busy Shapes 2 teaches kids about visual perspectives, coordination, agility, problem solving, and critical thinking.
Download for $2.99 for iOS.
Kiko's Thinking Time - Cognitive Training for Children's Brains
This app offers a bunch of games designed to help kids develop memory, focus, and reasoning skills by matching shapes, colors, animals, and objects. The app is free to try, with one free level offered per day, other wise it's an $8 monthly membership.
The Very Hungry Caterpillar & Friends — First Words
Easy enough for kids to use on their own, this app is based on Eric Carle's illustrations in a digital pop-up book that teaches words to young kids. To play, kids tap a picture from a specific theme to hear a word pronounce and see it in print. Languages offered are English, Spanish, French, Chinese, and German, so it's a great way for kids to learn a first language or practice a new one.
Peg + Cat: The Tree Problem
From PBS Kids, Peg + Cat: The Tree Problem is an interactive game that teaches math concepts in a fun and exciting way.
Fish School
Through eight educational activities, Fish School teaches kids numbers, letters, shapes, colors, and more.