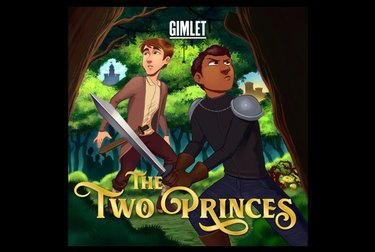 If you've had enough with the prince and princess stories, there's a scripted LGBTQ+ podcast for kids that switches things up in a much-needed way.
Gimlet's The Two Princes is a fairytale podcast about two rival princes who are trying to save their respective kingdoms from destruction by attempting to break a curse that's been looming over their kingdoms. They happen to fall in love with each other along the way.
They aren't prepared for the emotions they feel for each other, which is a completely relatable feeling for kids—especially those in the LGBTQ+ community.
It's a fictional LGBTQ+ story that's full of adventure and romance, not to mention a star-studded cast. The characters are brought to life by the voice talents of ​Booksmart's​ Noah Galvin and ​The Band's Visit's ​Ari'el Stachel as the princes, along with Christine Baranski, Shohreh Aghdashloo, Matthew Rhys, and Samira Wiley.
All the episodes are available now on Spotify or wherever you listen to podcasts. You can listen to a preview here.