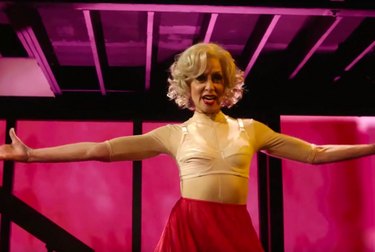 There's a lot to look forward to in September: sweater weather, pumpkin spice lattes, the kids being back in school, and all the new content coming to Amazon Prime Video.
A handful of Amazon Originals are coming your way, including the Transparent Musicale Finale, where Jeffrey Tambor's character Maura Pfefferman has been killed off, and the rest of the cast dance and sing their way through the series finale.
There are also a bunch of movies coming that'll take you back, including A Night at the Roxbury, Air Force One, Face Off, Legally Blonde, Election, Get Shorty, Saturday Night Fever, Much Ado About Nothing, Total Recall, The Talented Mr. Ripley, and You've Got Mai__l.
September TBD
Chris Tall Presents… (Amazon Original Series)
Family Man (Amazon Original Series)
September 3rd
September 13th
El Corazón de Sergio Ramos (Amazon Original Series)
Undone (Amazon Original Series)
September 24th
American Horror Story: Apocalypse
September 27th
Transparent Musicale Finale (Amazon Original Series)
September 30th
A Night at the Roxbury (1998)
_Chi to suna no kettô / Duel of Blood and San_d (1963)
Cowboy and the Senorita (1944)
Daughter of the Tong (1939)
Diana Vreeland: The Eye Has to Travel (2011)
Here's Flash Casey (1938)
Hollywood My Home Town (1965)
Kicking and Screaming (1995)
Mad Max 2: The Road Warrior (1981)
Mad Max Beyond Thunderdome (1985)
Much Ado About Nothing (2012)
Naked Gun 33 1/3: The Final Insult (1994)
Permanent Midnight (1998)
Play It Again, Sam (1972)
Saturday Night Fever (1977)
Tales from the Dar__kside: The Movie (1990)
The Adventures of Buckaroo Banzai Across the 8th Dimension (1990)
The Deadly Companions (1961)
The Life of David Gale (2003)
The Naked Gun 2½: The Smell of Fear (1991)
The Naked Gun: From the Files of Police Squad! (1988)
The Talented Mr. Ripley (1999)