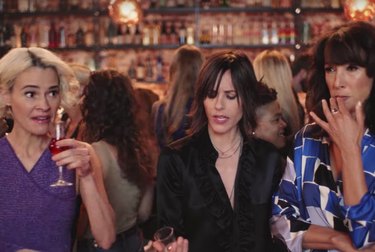 In most parts of the country right now, it's cold. Really cold. And when it's cold out, there's nothing better than plopping down on the couch and not getting up again until spring. Thankfully, Hulu will help make that possible with all the new movies and shows coming in December.
Check it out for yourself:
December 1st
Unikitty (Complete Season 2A, Cartoon Network)
Gintama (Complete Season 1, TV Tokyo)
A Fairly Odd Movie: Grow Up, Timmy Turner!
Escape from Mr. Lemoncello's Library
The Fast and the Furious: Tokyo Drift
Half-Shell Heroes: Blast to the Past
Hellboy II: The Golden Army
Legend of the Drunken Master
The Massively Mixed-Up Middle School Mystery
December 2nd
This One's For the Ladies
December 3rd
Making It (Season 2 Premiere, NBC)
The Great Christmas Light Fight (Season 7 Premiere, ABC)
Vanderpump Rules (Complete Season 7, Bravo)
Younger (Complete Season 6, TV Land)
December 4th
Brad Paisley Thinks He's Special (Special, ABC)
CMA Country Christmas (Special, ABC)
Fruits Basket (Complete Season 1, Funimation)
December 5th
The Moody's (Series Premiere, FOX)
How to Train Your Dragon: Homecoming
How to Train Your Dragon: Snoggletog Log
December 6th
Burden of Truth (Complete Season 2, eOne)
Into The Dark: A Nasty Piece of Work (Hulu Original)
Reprisal (Complete Season 1, Hulu Original)
Top Chef (Complete Season 16, Bravo)
December 8th
From Paris with Love (2010)
December 9th
Miss Universe 2019 (Special, FOX)
December 11th
Ellen's Greatest Night of Giveaways (Series Premiere, NBC)
Sherman's Showcase (Complete Season 1, IFC)
December 12th
December 13th
Marvel's Runaways (Complete Season 3, Hulu Original)
The Great American Baking Show (Season 5 Premiere, ABC)
December 16th
December 17th
Holidays with the Houghs (Special, NBC)
Mighty Magisworlds (Complete Season 2B, Cartoon Network)
December 18th
Killing Eve (Complete Season 2, BBC America)
Live in Front of a Studio Audience: All in the Family and Good Times (Special, ABC)
December 19th
Mix (Complete Season 1, Funimation)
December 20th
Miss America Pageant (Special, NBC)
December 23rd
December 24th
Black Jesus (Complete Season 3, Adult Swim)
December 27th
Into The Dark: Midnight Kiss (Hulu Original)
December 28th
Better Things (Complete Season 3, FX)
December 29th
Preacher (Complete Season 4, AMC)
December 30th
Flirty Dancing (Series Premiere, FOX)
OK K.O., Let's Be Heroes! (Complete Season 2B, Cartoon Network)
The Orville (Complete Season 2, FOX)
Transformers: The Dark Side of the Moon
The following are available with the Showtime premium add-on:
December 8th
The L Word: Generation Q (Series Premiere)
Work in Progress (Series Premiere)