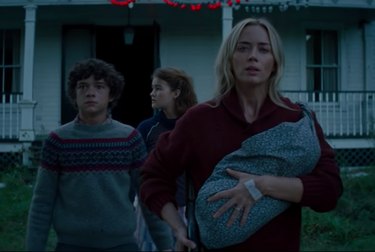 It's no surprise that the trailer for A Quiet Place: Part II is terrifying, because the first movie was nightmare-inducing. That is, if you're scared of giant people-eating alien creatures that appear out of know where the instant you make a sound.
Part II picks up shortly after the death of John Krasinski's character. The Abbott family (Emily Blunt, Millicent Simmonds, Noah Jupe) are left to face the apocalyptic world alone when they run into a stranger who makes the fight for survival feel even more hopeless. His advice? "The people that are left are not the kind of people worth saving."
A Quiet Place: Part II will hit theaters March 20th.