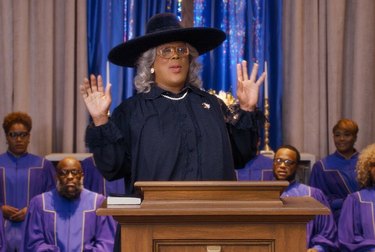 Hulu must know that aside from Valentine's Day, February is a pretty blah month. It's always in dire need of some outside stimulation—like endless hours movies and TV episodes.
In February, you'll be able to watch a bunch of new movies (they're old, but new to the Hulu lineup). There's all three Bridget Jones movies, For Colored Girls, The Fugitive, When Harry Met Sally, Lord of War, Menace II Society, The Fugitive, and several National Lampoon movies, including National Lampoon's Vacation, National Lampoon's European Vacation, and National Lampoon's Christmas Vacation.
As far as TV shows, there are a bunch of series, season, and mid-season premieres coming, including Lego Masters, For Life, Brooklyn Nine-Nine, Indebted, American Idol, The Voice, and Good Girls. Plus, The Oscars will air on February 9th on ABC.
Here's everything coming in February:
February 1st
Bridget Jones Diary (2001)
Bridget Jones: The Edge of Reason (2004)
Bridget Jone's Baby (2016)
Captain Kronos: Vampire Hunter (1974)
Cheech & Chong's Still Smokin' (1983)
Earth Girls are Easy (1988)
Getting Go: The Doc Project (2013)
Henry Gamble's Birthday Party (2015)
Hot Guys with Guns (2013)
The Man Who Could Cheat Death (1959)
Margarita with a Straw (2014)
National Lampoon's Christmas Vacation (1989)
National Lampoon's Dirty Movie (2011)
National Lampoon's Dorm Daze 2: College @ Sea (2006)
National Lampoon's European Vacation (1985)
National Lampoon's Vacation (1983)
The Phantom of the Opera (2004)
When Harry Met Sally (1989)
Where We Go From Here (2019)
February 2nd
A Madea Family Funeral (2019)
February 3rd
The Masked Singer__: Season 3 Premiere (FOX)
The Cabin in the Woods (2012)
February 5th
February 6th
Lego Masters: Series Premiere (FOX)
David Crosby: Remember My Name (2019)
Wrinkles the Clown (2019)
February 7th
Into The Dark: My Valentine__: Episode Premiere (Hulu Original)
Brooklyn Nine-Nine: Season 7 Mid-Season Premiere (NBC)
Indebted: Season 1 Mid-Season Premiere (NBC)
February 9th
The Oscars: Special (ABC)
February 12th
The Real Housewives of Beverly Hills__: Complete Season 9 (Bravo)
For Life: Series Premiere (ABC)
Where'd You Go, Bernadette (2019)
February 13th
February 14th
High Fidelity: Complete Season 1 Premiere (Hulu Original)
The Other Guy__: Complete Season 2 (eOne)
Utopia Falls: Complete Season 1 (Hulu Original)
Beverly Hills Ninja (1997)
February 15th
February 17th
American Idol: Season 3 Premiere (ABC)
Duncanville: Series Premiere (FOX)
Good Girls: Season 3 Mid-Season Premiere (NBC)
February 18th
February 19th
February 22nd
February 25th
The Voice__: Season 18 Mid-Season Premiere (NBC)
February 28th