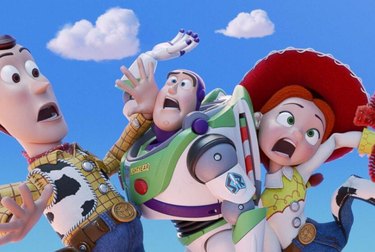 Disney Plus is adding more content to its lineup in February, and although there isn't a huge list of new stuff, there's one big hitter.
The big hitter? Toy Story 4. Woody, Buzz Lightyear, Jessie, and the rest of the gang will finally make their way to the streaming service on February 5th, joining the first three movies in the franchise. Fans of the movie have already been able to watch Toy Story 4's spinoff series, Forky Asks A Question, starring the bizarre, but lovable character, Forky.
Remember the 1988 comedy Big Business starring Bette Midler and Lily Tomlin? It's coming next month, as well as the 2009 movie Old Dogs, starring Robin Williams and John Travolta. Plus, a bunch of new episodes of Diary of a Future President, One Day at Disney, and Marvel's Hero Project.
Here's everything coming in February:
February 1st
Around the World in 80 Days
February 5th
February 7th
Diary of a Future President (new episode)
One Day at Disney (new episode)
Marvel's Hero Project (new episode)
Timmy Failure: Mistakes Were Made
February 9th
February 14th
Diary of a Future President (new episode)
One Day at Disney (new episode)
Marvel's Hero Project (new episode)
February 16th
Iron Man and Hulk: Heroes United
February 21st
Diary of a Future President (new episode)
One Day at Disney (new episode)
Marvel's Hero Project (new episode)
February 28th
Diary of a Future President (new episode)
One Day at Disney (new episode)
Marvel's Hero Project (new episode)