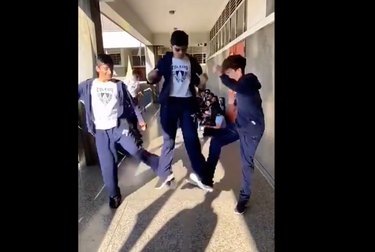 A new internet challenge has many parents concerned for the safety of their kids.
It's called "skull breaker challenge," and it originated on TikTok when two students in Spain started filming themselves "pranking" other students. The prank entails the two students standing on either side of a third person who is instructed to jump as high as possible. All three people are supposed to jump together, but instead, while the person in the middle is in the air, the two others kick their legs to knock them over, causing them to fall backwards and hit their head on the ground. Of course, the whole thing is filmed for social media.
The challenge is causing serious head injuries. In one video out of Venezuela, which is now serving as a warning to kids and parents, three students are seen doing the challenge when the student in the middle falls directly on his head. The video has since been removed, but it's still available to view on Twitter. You can see it here. Warning: it's hard to watch.
A mother in Tucson, Arizona posted a heartbreaking message to Facebook explaining what happened to her son when his two "friends" asked him to participate in the challenge. "Fast forward at the hospital, he has a head injury, stiches (sic) in his face, severe cuts inside his mouth and 2 front teeth I have to keep on eye on. This apparently is a Tik Tok viral prank being filmed and gaining likes on social media."
"The safety and well-being of our users is a top priority at TikTok," a TikTok spokesperson told Yahoo Lifestyle. "As we make clear in our Community Guidelines, we do not allow content that encourages, promotes, or glorifies dangerous challenges that might lead to injury, and we remove reported behavior or activity that violates our guidelines. To help keep our platform safe, we have introduced a slate of safety features geared towards enhancing our users' experience, including tools for reporting inappropriate content and for managing privacy settings."
TikTok users are now replacing the skull breaker videos with "skull saver" videos, which entails reenacting the challenge without kicking and causing harm. There are also PSAs floating around about the dangers of the stunt.