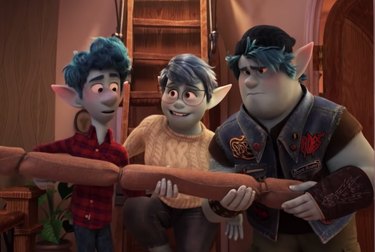 Disney Plus did us all a massive favor in March by bringing on Frozen 2 several months early. Of course, this was done to try to keep us all sane during the COVID-19 school closures. (It worked in my house.)
The streaming service is bringing on even more content in April that'll help keep the kiddos entertained, including Onward, Doctor Dolittle, the third season of PJ Masks, National Treasure, Fury Files, and a bunch of new episodes of Disney Plus originals.
Disney Plus is also bringing on a collection of documentaries, series, and films from National Geographic and Disneynature in celebration of Earth Month.
April 1st
April 3rd
_Life on the Edge (_new episode)
Dolphin Reef (new episode)
Diving With Dolphins (new episode)
Star Wars: The Clone Wars (new episode)
Disney's Fairy Tale Weddings (new episode, finale)
Disney Family Sundays (new episode)
One Day At Disney (new episode)
Be Our Chef (new episode)
Lambert, The Sheepish Lion
Sonny with a Chance (seasons 1-3)
The Boy Who Talked to Badgers
April 10th
A Celebration of Music from the Coco Premiere
Star Wars: The Clone Wars (new episode)
Disney Family Sundays (new episode)
One Day At Disney (new episode)
Be Our Chef (new episode)
Life Below Zero (season 14)
Paradise Island (season 1)
Playtime with Puppy Dog Pals (season 1)
Running Wild with Bear Grylls (season 5)
Tut's Treasures: Hidden Secrets (season 1)
April 12th
April 17th
Star Wars: The Clone Wars (new episode)
Shop Class (new episode, finale)
Disney Family Sundays (new episode)
One Day At Disney (new episode)
Be Our Chef (new episode)
Mickey and the Roadster Racers: Nutty Tales (seasons 1-2)
The Incredible Dr. Pol (season 16)
April 19th
Just Roll with It (season 1)
April 20th
Secrets of the Zoo: Tampa (season 1)
April 22nd
April 23rd
Disney Rapunzel's Tangled Adventure (season 3)
April 24th
America's Funniest Home Videos (seasons 12-19, 23)
Star Wars: The Clone Wars (new episode)
Disney Family Sundays (new episode)
One Day At Disney (new episode)
Be Our Chef (new episode)
April 30th