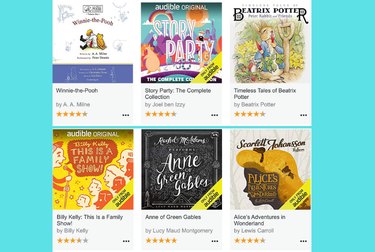 If you're looking for screen-less entertainment for your kids while they're home from school, Amazon's Audible wants to help.
Audible is normally $14.95 a month, but the digital audiobook company is offering free access to children's stories while schools are closed due to the current coronavirus health crisis. Unfortunately, it looks like schools might be closed for the rest of the school year, so free free entertainment is worth checking out.
Here's the message from Audible:
"For as long as schools are closed, we're open. Starting today, kids everywhere can instantly stream an incredible collection of stories, including titles across six different languages, that will help them continue dreaming, learning, and just being kids. All stories are free to stream on your desktop, laptop, phone or tablet. Explore the collection, select a title and start listening. It's that easy."
You can search for a specific title, or you can browse the collection based on age group or genre (Littlest Listeners, Elementary, Tween, Teen, Literary Classics, and Folk & Fairy Tales for All). The stories are offered in six languages.
Click here to browse around.