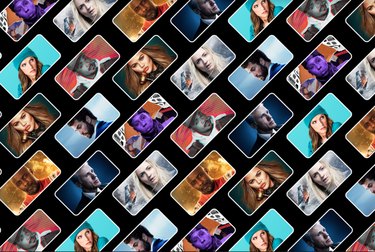 Quibi is a new short-form streaming service, named for offering "quick bite" daily episodes—each running 10 minutes or less—and it's finally available to stream.
In its first year, Quibi plans to release 175 new shows (8,500 quick bites of content), including Movies in Chapters, Unscripted Series and Docs, Daily Essentials, News, Sports, and Weather.
There will be content from Jennifer Lopez, Chrissy Teigen, LeBron James, Chance the Rapper, Liam Hemsworth, Sophie Turner, Lena Waithe, Nicole Richie, Reese Witherspoon, and more.
Some fun shows you can watch right now include Sophie Turner's Survive, Most Dangerous Game starring Liam Hemsworth and Christoph Waltz, Punk'd hosted by Chance the Rapper, Thanks A Million from Jennifer Lopez, and Chrissy's Court starring Chrissy Teigen.
How much is Quibi?
For a limited time, Quibi is offering a free 90 day trial. You just need to sign up before the end of April. After that, Quibi will cost $4.99 with ads and $7.99 without ads. According to Quibi CEO Meg Whitman, for content under five minutes, ads will be limited to six to 10 seconds.
How to watch
Quibi is for mobile only. Download the app on the App Store and Google Play. All of the content can be viewed both horizontally and vertically.
Everything coming in April
Most Dangerous Game (scripted)
When the Streetlights Go On (scripted)
50 States of Fright (scripted)
Chrissy's Court (unscripted)
Fierce Queens (documentary)
Gone Mental with Lior (unscripted)
Murder House Flip (unscripted)
Run This City (documentary)
Shape of Pasta (documentary)
Skrrt with Offset (unscripted)
Thanks A Million (unscripted)
You Ain't Got These (documentary)
Around the World by BBC News (Daily Essentials)
Weather Today by The Weather Channel (Daily Essentials)
Morning Report by NBC News (Daily Essentials)
Evening Report by NBC News (Daily Essentials)
Saturday Report by NBC News (Daily Essentials)
Sunday Report by NBC News (Daily Essentials)
The Replay by ESPN (Daily Essentials)
NewsDay by CTV (Daily Essentials, Canada)
NewsNight by CTV (Daily Essentials, Canada)
Sports AM by TSN (Daily Essentials, Canada)
Pulso News by Telemundo (Daily Essentials)
For the Cultura by Telemundo (Daily Essentials)
Close Up by E! News (Daily Essentials)
Fresh Daily by Rotten Tomatoes (Daily Essentials)
Speedrun by Polygon (Daily Essentials)
Pop5 by iHeartRadio (Daily Essentials)
No Filter by TMZ: AM (Daily Essentials)
No Filter by TMZ PM (Daily Essentials)
Last Night's Late Night (Daily Essentials)
All The Feels by The Dodo (Daily Essentials)
The Daily Chill (Daily Essentials)
The Rachel Hollis Show (Daily Essentials)
Sexology by Shan Boodram (Daily Essentials)
The Nod with Brittany & Eric (Daily Essentials)
Trailers by Fandango (Daily Essentials)
50 States of Fright (scripted)
Elba vs. Block (unscripted)
Let's Roll with Tony Greenhand (unscripted)
Fight Like a Girl (unscripted)
Iron Sharpens Iron (unscripted)
Fashion's a Drag (Daily Essentials)