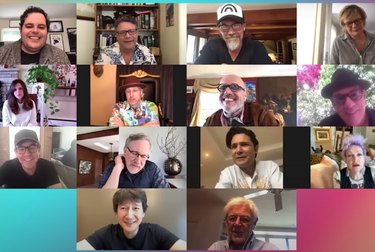 Quarantine just got a whole lot more exciting, because the cast of The Goonies had a virtual reunion this week, and it's everything.
It's been 35 years since The Goonies was released into our '80s hearts, and Josh Gad decided that there's no better time than a global pandemic to bring the cast and filmmakers back together.
For his new YouTube series, Reunited Apart, Gad hosted a Zoom call with Sean Astin (Mikey), Josh Brolin (Brand), Corey Feldman (Mouth), Kerri Green (Andy), Jonathan Ke Quan (Data), Martha Plimpton (Stef), Jeff Cohen (Chunk), Robert Davi (Jake Fratelli), and Joe Pantoliano (Francis Fratelli). Director Richard Donner, writer Chris Columbus, producer Steven Spielberg, and Cyndi Lauper also jumped on the call.
The cast members talked about what they've been up to, asked each other questions about their time filming The Goonies, and reenacted some of the film's most loved scenes. All 26 minutes and 14 seconds of the reunion was pure magic.
The reunion was put together to raise funds for The Center For Disaster Philanthropy in order to help bring relief to those suffering from COVID-19, as well as a thank you to all the heroic first responders.
OK. It's time. Here's the Zoom call of all Zoom calls: