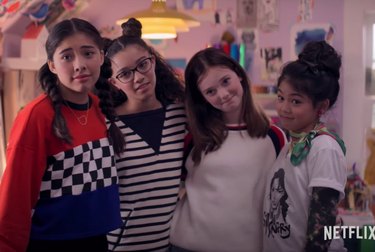 Netflix is really good at original programming. Like, annoyingly good—because for the entire month of July, it's going to be hard to do anything other than binge watch all the new series coming your way.
Unsolved Mysteries is making a welcomed return with brand new mysteries to solve; The Baby-Sitters Club is also resurfacing in a new series that focuses on the same group of best friends you remember from the '90s, with updated characters to fit modern times; and The Umbrella Academy is back with season 2.
Plus, a bunch of other original series and films, as well as some shows for the kiddos, including Treehouse Detectives and Harvey Street Kids.
Here's everything coming in July:
Under the Riccione Sun (Netflix Original Series)
Unsolved Mysteries (Netflix Original Series)
Say I Do (Netflix Original Series)
Anne Frank-Parallel Stories
Chico Bon Bon: Monkey with a Tool Belt: Season 2
Warrior Nun (Netflix Original Series)
The Baby-Sitters Club (Netflix Original Series)
Cable Girls: Season 5B (Netflix Original Series)
Desperados (Netflix Film)
Ju-On Origins (Netflix Original Series)
Stateless (Netflix Original Series)
Japan Sinks: 2020 (Netflix Anime)
The Protector (Netflix Original Series)
The Old Guard (Netflix Film)
Harvey Street Kids (Netflix Family)
Treehouse Detectives (Netflix Family)
Dark Desire (Netflix Original Series)
Fatal Affair (Netflix Film)
Cursed (Netflix Original Series)
How to Sell Drugs Online (Fast): Season 2
The Kissing Booth 2 (Netflix Film)
Offering to the Storm (Netflix Film)
Last Chance U: Season 5 (Netflix Original Series)
The Umbrella Academy: Season 2 (Netflix Original Series)