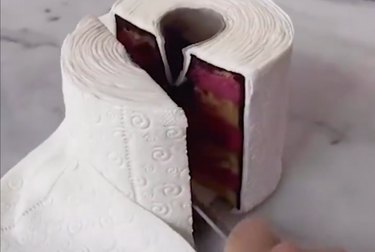 It's hard not to love cake. It's delicious and celebratory, and it's the perfect candle holder.But opinions on cake may have shifted, possibly forever, following videos of nightmare-inducing hyperrealistic cakes that went viral this week.
If you've scrolled through social media in the past few days, you may have come across videos of everyday objects, people, and animals being cut into with a knife to reveal cake. They realism of the cakes are equal parts fascinating, alarming, and terrifying.
This new obsession with hyperrealistic cakes started when Buzzfeed posted a montage of Turkish food artist and pastry master Tuba Geckil's cakes on Twitter. She is one of many cake artists who sculpt cakes to look exactly like real life stuff, including toilet paper, Crocs, food, fruit, soap, linens, and more.
The cakes, which really are fondant sculptures that happen to have cake inside, are so realistic looking, they're making people question if everything on earth is, in fact, cake. (Including earth itself.)
The cakes are impressive, but the responses on Twitter are what are really taking the cake. (Sorry, couldn't help it.)