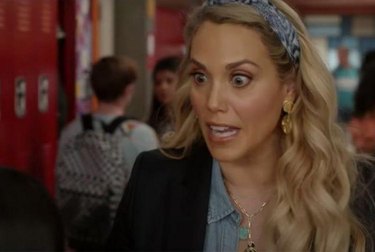 Back in 2019, it was announced that one of most beloved TV shows of the '90s is heading back to our TVs and into our hearts. That's right, a modernized Saved by the Bell is headed to NBCUniversal's new streaming service, Peacock.
The reboot we've all been waiting for will feature a new cast of characters at Bayside High, including Lexi, who The Hollywood Reporter describes as "a beautiful, sharp-tongued cheerleader and the most popular girl at Bayside High, who is both admired and feared by her fellow students." She also happens to be openly transgender.
Elizabeth Berkley (Jessie Spano) and Mario Lopez (A.C. Slater) will also star in the reimagining, with Mark-Paul Gosselaar (Zack Morris) signed on for three episodes, and possibly Tiffani-Amber Theissen (Kelly Kapowski) as well.
"It's not a reboot, but a reimagining," executive producer Tracey Wigfield (30 Rock, The Mindy Project) said. "This is a single-camera, edgier comedy that I think will be exciting for those that loved the original ... There are definitely one-off stories about falling in love with the same girl, where we poke fun at the original show, mixed with larger arcs and love triangles."
There seem to also be lots of jokes about the age of the original show, including a joke about Justin Bieber being old. (Feel old yet?)
Here's the second official teaser trailer:
And here's the first teaser trailer in case you missed it:
No official release date has been announced.