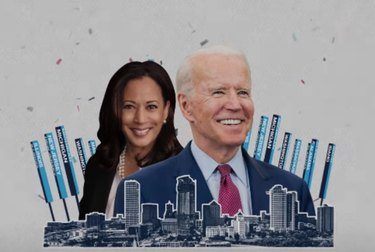 The Democratic National Convention is a four-day event happening Monday through Thursday this week. The event was supposed to take place in Milwaukee, Wisconsin where Democrats would officially announce former Vice President Joe Biden as the nominee for president. Due to the COVID-19 pandemic, however, the convention is being held completely online.
From 9 p.m. to 11 p.m. ET Monday through Thursday, tune into one of several streaming platforms. The DNC website will be airing the official live stream of the event. You can also watch it on Facebook, Twitter, YouTube, and Twitch, as well as on Apple TV, Amazon Fire TV, and Roku, which you can find by searching "2020 DNC."
ABC, CBS, NBC, and Fox News will air the second hour of the event, and you can watch the whole thing on C-SPAN, CNN, MSNBC, and PBS.
If you prefer to listen to the speakers, you can ask Alexa to play it by saying, "Alexa, play the Democratic National Convention."
Here's the schedule of speakers
Sen. Amy Klobuchar, Sen. Catherine Cortez Masto, Gov. Andrew Cuomo, Gov. Gretchen Whitmer, Rep. Jim Clyburn, Convention Chairman Bennie Thompson, Rep. Gwen Moore, Sen. Doug Jones, Sen. Bernie Sanders, and former first lady Michelle Obama, with performances by Maggie Rogers and Leon Bridges
Former acting US Attorney General Sally Yates, Senate Democratic Leader Chuck Schumer, former Secretary of State John Kerry, Rep. Alexandria Ocasio-Cortez, Rep. Lisa Blunt Rochester, former President Bill Clinton, Dr. Jill Biden
Sen. Elizabeth Warren, House Speaker Nancy Pelosi, former Secretary of State Hillary Clinton, Gov. Tony Evers, Gov. Michelle Lujan Grisham, former Rep. Gabrielle Giffords, Sen. Kamala Harris, former President Barack Obama, with performances by Billie Eilish and Jennifer Hudson.
Sen. Cory Booker, Pete Buttigieg, Gov. Gavin Newsom, Mayor Keisha Lance Bottoms, Sen. Tammy Baldwin, Sen. Chris Coons, Andrew Yang, Vice President Joe Biden, with a performance by The Chicks.