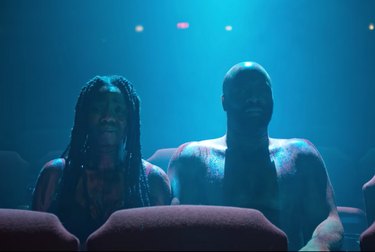 Hulu is bringing on the spooky content in October, because you know, Halloween. So, grab your popcorn and sprinkle it with candy corn (if you're into that sort of thing) and buckle up for a spook fest.
The scary movies and shows coming next month include Interview With the Vampire, Scream 4, When a Stranger Calls, season 2 of The Purge, a bunch of Halloween specials on Food Network, plus several Hulu Originals, including Bad Hair, a horror-comedy from Dear White People writer/producer Justin Simien about a woman whose weave has a mind of its own; Monsterland, a series based on Nathan Ballingrud's book North American Lake Monsters; and Helstrom, an adaptation from Marvel Comics about siblings whose father was a serial killer.
Also coming are a bunch of season premieres, including Black-ish, Saturday Night Live, Ellen's Game of Games, Shark Tank, The Voice, The Conners, The Goldbergs, Superstore, Homeland, American Housewife, and the series premiere of Supermarket Sweep.
90 Day Fiancé: Before the 90 Days: Complete Season 4
90 Day Fiancé: Complete Season 7
All-Star Halloween Spectacular: Special
Bizarre Foods With Andrew Zimmern: Complete Seasons 9 & 10
Bride Killa: Complete Season 1
Cutthroat Kitchen: Complete Season 13
Dr. Pimple Popper: Complete Season 4
Going for Sold: Complete Season 1
Guy's Grocery Games: Complete Seasons 18 – 20
Halloween Baking Championship: Complete Seasons 1 – 4
Halloween Wars: Complete Seasons 3 – 8
Hell's Kitchen: Complete Season 18
Homicide City: Charlotte: Complete Season 1
Homicide Hunter: Lt. Joe Kenda: Complete Season 9
Man with a Van: Complete Season 1
Moonshiners: Master Distiller: Complete Season 1
Murder Comes Home: Complete Season 1
My 600-lb Life: Complete Season 8
My Feet Are Killing Me: Complete Season 1
Property Virgins: Complete Season 18
Supermarket Stakeout: Complete Season 1
Sweet 15: Quinceañera: Complete Season 1
The Flay List: Complete Season 1
Twisted Love: Complete Season 1
The Curse Of Downers Grove
Double, Double, Toil and Trouble
Interview With the Vampire
Mad Max Beyond Thunderdome
The Pirates! Band Of Misfits
William Shakespeare's Romeo + Juliet
Zombie Killers: Elephant's Graveyard
Monsterland: Complete Season 1
Connecting: Series Premiere
Saturday Night Live: Season 46 Premiere
Dragon Ball Super: New Episodes 1 – 131 (DUBBED)
Books of Blood: Film Premiere (Hulu Original)
Ellen's Game of Games: Season 4 Premiere
The Bachelorette: Season 16 Premiere
The Purge: Complete Season 2
Treadstone: Complete Season 1
Helstrom: Complete Season 1
Shark Tank: Season 12 Premiere
Momma Named Me Sheriff: Complete Season 1
Mr. Pickles: Finale Episode
America's Funniest Home Videos: Season 31 Premiere
Card Sharks: Series Premiere
Supermarket Sweep: Series Premiere
Who Wants To Be A Millionaire: Season 2 Premiere
The Voice: Season 19 Premiere
F*ck That's Delicious: Complete Season 4
Black-ish: Season 7 Premiere
The Conners: Season 3 Premiere
The Goldbergs: Season 8 Premiere
Superstore: Season 6 Premiere
Homeland: Complete Season 8
What to Expect When You're Expecting
American Housewife: Season 5 Premiere