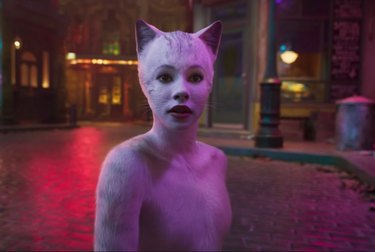 HBO Max still doesn't offer an app for Amazon Firestick or Roku, but that isn't getting in the way of the streaming service bringing on a super long list of new content in October.
The movie version of Cats is coming next month, which is both exciting and terrifying—exciting, because it'll be fun to see how terrifying the people/cats actually are. Also coming are a bunch of DC Universe movies, including All-Star Superman, Catwoman, Constantine, Jonah Hex, Man of Steel, Son of Batman, and more.
You'll be able to check out a bunch of older movies that you probably haven't seen in a while, including Friday, The Color Purple, Day of the Dead, Dirty Dancing, Teenage Mutant Ninja Turtles, You've Got Mail, Akeelah and the Bee, Malcolm X, Hairspray, and Analyze This.
Plus, two titles that are very different from each other, but both relevant to life right now: South Park: The Pandemic Special and The ABCs of Back to School: A CNN/Sesame Street Town Hall for Families.
A World of Calm, Documentary Series Premiere
Akeelah and the Bee, 2006 (HBO)
American Dynasties: The Kennedys, 2018
American Reunion, 2012 (HBO)
The Angriest Man in Brooklyn, 2014 (HBO)
Austin Powers: International Man Of Mystery, 1997
Austin Powers: The Spy Who Shagged Me, 1999
Beavis and Butt-Head Do America, 1996 (HBO)
The Bush Years: Family. Duty. Power., 2019
The Butterfly Effect, 2004
Cheech & Chong's Up in Smoke, 1978
The Chronicles of Riddick, 2004 (Director's Cut) (HBO)
City Slickers 2: The Legend of Curly's Gold, 1994
Collateral Beauty, 2016 (HBO)
Confessions of a Dangerous Mind, 2003 (HBO)
The Curse of Frankenstein, 1957
Day of the Dead, 1985 (HBO)
Death Sentence, 2007 (Extended Version) (HBO)
Dirty Dancing, 1987 (HBO)
Dirty Dancing: Havana Nights, 2004 (HBO)
Dracula Has Risen from the Grave, 1969
The End: Inside the Last Days of the Obama White House, 2017
Endings, Beginnings, 2020 (HBO)
The Friday After Next, 2002
Hairspray (Musical Remake), 2007
The Hills Have Eyes, 2006 (Extended Version) (HBO)
The Hills Have Eyes II, 2007 (Extended Version) (HBO)
The Last Kiss, 2006 (HBO)
Madea's Big Happy Family, 2011
Marie: A True Story, 1985
The Matrix Reloaded, 2003
The Matrix Revolutions, 2003
Million Dollar Baby, 2004
Miracle of Morgan's Creek, 1944
Monsters Vs. Aliens, 2009
Mutiny on the Bounty, 1935
Never, Rarely, Sometimes, Always, 2020 (HBO)
Open Water 2: Adrift, 2007 (HBO)
Pac-Man and the Ghostly Adventures, 2013
The Phantom of the Opera, 2004
Race for the White House, Season 1
Raised by Wolves, Season 1 Finale
Revolutionary Road, 2008 (HBO)
Scooby-Doo! Haunted Holidays, 2012
Sesame Street Presents Follow That Bird, 1985
South Park: The Pandemic Special
Superman vs. the Elite, 2012
Superman/Batman: Apocalypse, 2010
Superman/Batman: Public Enemies, 2009
Teenage Mutant Ninja Turtles, 1990
Teenage Mutant Ninja Turtles 2, 1991
Teenage Mutant Ninja Turtles 3, 1993
They Were Expendable, 1945
A Thin Line Between Love and Hate, 1996
Turistas, 2006 (Extended Version) (HBO)
Vampire in Brooklyn, 1995
A Very Brady Sequel, 1996
We Will Rise: Michelle Obama's Mission to Educate Girls Around the World, 2016
What You Gonna Do When the World's on Fire?, 2018
When Harry Met Sally, 1989
Where the Wild Things Are, 2009
The Whole Ten Yards, 2004 (HBO)
The Wings of Eagles, 1957
The ABCs of Back to School: A CNN/Sesame Street Town Hall for Families, 2020
Siempre, Luis, Documentary Premiere (HBO)
Wild Card: The Downfall Of A Radio Loudmouth (HBO)
Charm City Kings, HBO Max Original Film Premiere
The God of High School (Dubbed)
Entre Nos Presents: Shayla Rivera: It'S Not Rocket Science (HBO)
Room 104, Series Finale (HBO)
Detention Adventure, Season 2
La Odisea De Los Giles (Aka Heroic Losers) (HBO)
The Perfect Weapon, Documentary Special Premiere (HBO)
David Byrne's American Utopia, Special Event Premiere (HBO)
Lovecraft Country, Season Finale (HBO)
The Vow, Docuseries Finale (HBO)
537 Votes, Documentary Premiere (HBO)
Equal, HBO Max Original Docuseries Premiere
How To with John Wilson, Season 1 Premiere (HBO Original)
The Undoing, Limited Series Premiere (HBO)
It: Chapter Two, 2017 (HBO)
John Lewis: Good Trouble, 2020
The Soul Of America, Documentary Premiere (HBO)
Burning Ojai: Our Fire Story (HBO)
Mano De Obra (Aka Workforce) (HBO)
Black Christmas, 2019 (HBO)