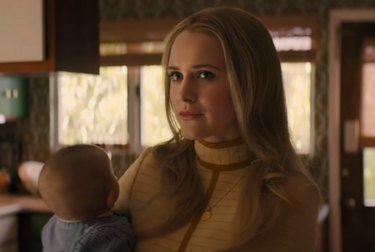 Amazon Prime Video is bringing on a whole bunch of new content in December. If you're already overwhelmed with the holidays, don't worry—there's plenty for you to watch that doesn't involve Christmas.
Worth checking out is the Amazon Prime Video Original ​The Wilds​, about a group of teenage girls who are stranded on a deserted island after surviving an intentional plane crash. Also noteworthy is ​I'm Your Woman​, a crime drama about a woman (​The Marvelous Mrs. Maisel​'s Rachel Brosnahan) who is forced to go on the run with her baby after her husband betrays his partners.
There are also loads of classics coming next month, including ​A League of Their Own​, ​Air Force One​, ​Goldeneye, The People Vs. Larry Flynt​, ​Anaconda​, ​Diary Of A Mad Black Woman​, ​Cloudy With A Chance Of Meatballs​, all 8 seasons of ​Mad About You​, and all 5 seasons of ​The Bernie Mac Show​.
Cloudy With A Chance Of Meatballs
Diary Of A Mad Black Woman
Gringo: The Dangerous Life of John McAfee
Harold & Kumar Escape From Guantanamo Bay
Harold & Kumar Go To White Castle
Hemingway's Garden Of Eden
Los Rodriguez el más allá
Love at the Christmas Table
Nick And Norah's Infinite Playlist
The People Vs. Larry Flynt
A House Divided: Season 1
Enterprice: Season 1 (Topic)
George Gently: Season 1 (Acorn TV)
How the States Got Their Shapes: Season 1
Lidia Celebrates America Home for the Holidays: Season 1
L Word Generation Q: Season 1
Murder in the Bayou: Season 1
No Passport Required: Season 1
NOVA: The Planets: Season 1
Spanish Princess: Season 1
The Berlin Dance School: Season 1
Tom & Jerry Tales: Season 1
Wild Kratts: China Adventure: Season 1
Work in Progress: Season 1
Sound of Metal *Amazon Original Movie
The Bernie Mac Show: Seasons 1-5
Mad About You: Seasons 1-8
Clifford the Big Red Dog – Amazon Original Series: Season 3A
The Wilds – Amazon Original Series: Season 1
Victoria Small (Pequeña Victoria): Season 1
The Grand Tour Presents: A Massive Hunt