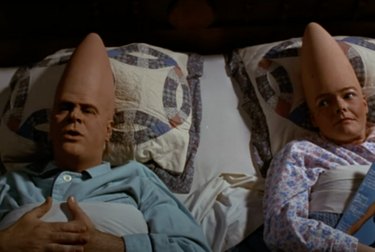 Hulu is bringing the goods in the new year with a long list of classic movies, season premieres, and Hulu Originals.
Coming in January is the Hulu Original film ​The Ultimate Playlist of Noise​, starring ​Handmaid's Tale​ alum Madeline Brewer and Keean Johnson; season 25 premiere of ​The Bachelor​; the series premiere of Gordon Ramsay's ​American Road Trip​; the series premiere of ​Call Your Mother​; and the season 2 premiere of ​Mixed-ish​.
If you feel like kicking back and putting on a movie you may or may not have already seen, your options include ​Boogie Nights​, ​Coneheads​, the first three ​Austin Powers​ movies, the ​Looks Who's Talking​ trilogy​, Face/Off​, ​Kiss the Girls​, ​Arachnophobia​, ​Last of the Mohicans​, and so many others. Also, alert the kids: ​Frozen​ is coming.
Here's the full January lineup:
Dick Clark's Primetime New Year's Rockin' Eve With Ryan Seacrest: Special (ABC)
Fire Force: Season 2, Episodes 1-12 (DUBBED) (Funimation)
1900 (Extended Cut) (1977)
A Night at the Roxbury (1998)
Austin Powers In Goldmember (2002)
Austin Powers: International Man Of Mystery (1997)
Austin Powers: The Spy Who Shagged Me (1999)
Blade Runner: The Final Cut (2007)
The Brothers McMullen (1995)
Cloudy With A Chance Of Meatballs (2009)
Crazy, Stupid, Love. (2011)
Dead Poets Society (1989)
Diary of a Wimpy Kid (2009)
Enemy at the Gates (2001)
Escape from Alcatraz (1979)
Frankenstein and the Monster from Hell (1974)
Gunfight at the O.K. Corral (1957)
Hell or High water (2016)
Last of the Mohicans: Director's Cut (1992)
The Legend of Bagger Vance (2000)
Look Who's Talking (1989)
Look Who's Talking Now (1993)
Look Who's Talking Too (1990)
Love And Basketball (2000)
The Man Who Shot Liberty Valance (1962)
My Best Friend'S Girl (2008)
Night at the Museum (2006)
Places in the Heart (1984)
The Princess Bride (1987)
The Quick and the Dead (1995)
The Rules Of Attraction (2002)
The Sons of Katie Elder (1965)
Star Trek IV: The Voyage Home (1986)
Star Trek: First Contact (1996)
Stephen King's Graveyard Shift (1990)
The Three Musketeers (2011)
Vampire in Brooklyn (1995)
Call Me Kat: Season 1 Finale (FOX)
The Rookie: Season 3 Premiere (ABC)
The Bachelor: Season 25 Premiere (ABC)
The Wall: Season 4 Premiere (NBC)
Boruto: Complete Season 1 (DUBBED) (Viz)
Gordon Ramsay's American Road Trip: Series Premiere (FOX)
Zoey's Extraordinary Playlist: Season 2 Premiere (NBC)
Name That Tune: Series Premiere (FOX)
Vanderpump Rules: Complete Season 8 (Bravo)
The Hustler: Series Premiere (ABC)
The Chase: Series Premiere (ABC)
Celebrity Wheel of Fortune: Series Premiere (ABC)
Mr. Mayor: Series Premiere (NBC)
A Certain Scientific Railgun Part 2: Complete Season 3 (DUBBED) (Funimation)
Celebs Go Dating: Complete Seasons 6 – 8 (All3Media)
Tattoo Fixers Extreme UK: Complete Seasons 5 & 6 (All3Media)
One-Punch Man: Complete Season 2 (DUBBED) (Viz)
The Rhythm Section (2020)
A Little Late with Lilly Singh: Season 2 Premiere (NBC)
Prodigal Son: Season 2 Premiere (FOX)
The Resident: Season 4 Premiere (FOX)
Everyone is Doing Great: Complete Season 1 (Endeavor Content)
Call Your Mother: Series Premiere (ABC)
The Secrets We Keep (2020)
Endlings: Complete Season 2 (Hulu Original)
The Ultimate Playlist of Noise: Film Premiere (Hulu Original)
Is It Wrong to Pick Up Girls in a Dungeon?: Complete Season 3 (SUBBED) (Infinite Frontiers)
I Don't Know How She Does It (2011)
9-1-1: Season 4 Premiere (FOX)
9-1-1: Lone Star: Season 2 Premiere (FOX)
90 Day Fiancé: Self-Quarantined: Complete Season 1 (TLC)
A Very Brady Renovation: Complete Season 1 (HGTV)
Car Kings: Complete Season 1 (Discovery)
Cutthroat Kitchen: Complete Season 14 (Food Network)
Gold Rush: Complete Season 10 (Discovery)
House Hunters International: Complete Season 138 (HGTV)
House Hunters: Complete Season 163 (HGTV)
Property Brothers: Forever Home: Complete Season 1 (HGTV)
Puppy Bowl: Complete Seasons 14 & 15 (Animal Planet)
River Monsters: Complete Season 9 (Animal Planet)
Rob Riggle: Global Investigator: Complete Season 1 (Discovery)
Rock The Block: Complete Season 1 (HGTV)
Save My Skin: Complete Season 1 (TLC)
Torn from the Headlines: New York Post Reports: Complete Season 1 (ID)
Who Killed Jeffrey Epstein?: Complete Season 1 (ID)
Worst Bakers in America: Complete Season 2 (Food Network)
Worst Cooks in America: Complete Season 17 (Food Network)
Derek Delgaudio's In & Of Itself: Film Special Premiere (Hulu Original)
The Sister: Complete Season 1 (Hulu Original)
Grown-ish: Season 3B Premiere (Freeform)
Mixed-Ish: Season 2 Premiere (ABC)
The Haves and Have Nots: Complete Season 7B (OWN)
Jann: Complete Seasons 1 & 2 (Distribution 360)