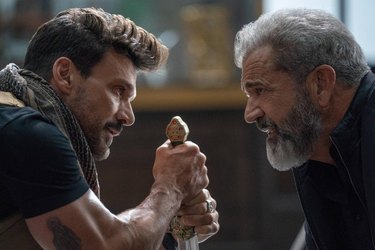 There's a long list of movies and TV shows coming to Hulu in March, which will be the perfect activity to get you through the tail end of winter.
Coming March 1 are a bunch of older movies worth watching again, including ​As Good as It Gets​, ​Blow​, ​Cocktail, Malcolm X, Beloved​, ​Pretty Woman​, and ​Employee Of The Month​. And for the kids, ​Dolphin Tale, Dolphin Tale 2​, ​A Very Brady Sequel​, ​Ice Age: Dawn of the Dinosaurs​, ​Wedding Crashers​, ​The Social Network​, and ​Young Frankenstein.​
A Hulu Original film to watch is ​Boss Level​, starring Frank Grillo, Mel Gibson, and Naomi Watts​.​ It's about a special forces agent stuck in a never-ending time loop on the death of his death. As far as TV shows, the fourth season of ​Good Girls​ is premiering, as well as the 20th season of ​The Voice​ and National Geographic's ​Genius: Aretha​.
Charles & Diana: 198‪3 (2021)
A Very Brady Sequel (1996)
As Good as It Gets (1997)
Attack of the 50 Foot Cheerleader (2012)
Employee Of The Month (2006)
Enemy Of The State (1998)
The Forbidden Kingdom (2008)
The Great Debaters (2007)
I Can Do Bad All By Myself (2009)
Ice Age: Dawn of the Dinosaurs (2009)
In the Line of Fire (1993)
McLintock! (Producer's Cut) (1963)
Neil Young: Heart of Gold (2006)
The Social Network (2010)
The Whole Nine Yards (2000)
Young Frankenstein (1974)
Debris: Series Premiere (NBC)
The Voice: Season 20 Premiere (NBC)
Top Chef: Complete Season 17 (Bravo)
New Amsterdam: Season 3 Premiere (NBC)
Boss Level (2021) (Hulu Original)
Good Girls: Season 4 Premiere (NBC)
Shipwrecked: Complete Season 1 (Banijay)
Absolutely Ascot: Complete Seasons 1 & 2 (All3Media)
Dress to Impress: Complete Seasons 1 & 2 (ITV)
Game of Talents: Series Premiere (FOX)
Cake: Season 4 Premiere (FX)
1 Night In San Diego (2020)
Constructing Albert (2017)
Missing 411: The Hunted (2019)
The Stand: How One Gesture Shook The World (2020)
Staged: Complete Season 2 (BBC Studios)
Mayans M.C.: Season 3 Premiere (FX)
Trolls: TrollsTopia: Complete Season 2 (Hulu Original)
Catfish: The TV Show: Complete Season 8 (MTV)
Genius: Aretha: Complete Season 3 (National Geographic)
Breeders: Season 2 Premiere (FX)
Solar Opposites: Complete Season 2 (Hulu Original)
Into the Dark: Blood Moon: Season 2 Finale (Hulu Original)
Fire Force: Complete Season 2 (DUBBED) (Funimation)
The Hurricane Heist (2018)
Vikings: Complete Season 6B (History)
Pooch Perfect: Series Premiere (ABC)