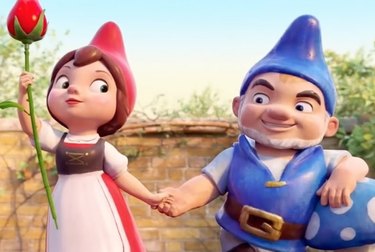 The list of new movies and TV episodes coming to Disney+ each month is always small but mighty. And new content is always exciting for kids (and grownups) who have basically already watched everything the streaming platform offers.
​Raya and the Last Dragon​ is a new movie that will be released through Disney+ Premier Access for an additional $30, just like ​Mulan​. The rest of the lineup is included with your subscription, including ​Garfield: A Tail of Two Kitties​, ​Miss Peregrine's Home for Peculiar Children​, and ​Gnomeo & Juliet​, along with a bunch of new TV episodes.
The insanely popular show WandaVision is coming to an end next month, but a making-of documentary will be released to give fans a little something extra.
Here's everything coming in March:
Raya and the Last Dragon (Disney+ Premier Access)
WandaVision: Season Finale
Disney Secrets of Sulphur Springs: Time Warped
Garfield: A Tail of Two Kitties
Heartland Docs, DVM, Season 2
Disney Secrets of Sulphur Springs: Long Time Gone
Disney Junior Doc McStuffins: The Doc Is In
Disney My Music Story: Perfume
Dr. K's Exotic Animal ER, Season 1-8
Dr. Oakley, Yukon Vet, Season 7
Miss Peregrine's Home for Peculiar Children
Assembled: The Making of WandaVision
The Falcon and the Winter Soldier: Episode 1
Disney Big Hero 6 The Series, Season 3
​​Disney Secrets of Sulphur Springs: If I Could Turn Back Time
​​Mexico Untamed, Season 1
The Mighty Ducks: Game Changers: Episode 1
Disney Secrets of Sulpher Springs: As Time Goes By
Disney Pickle and Peanut, Season 1
Disney Pickle and Peanut, Season 2
The Falcon and the Winter Soldier: Episode 2
Inside Pixar: Foundations: Batch 3