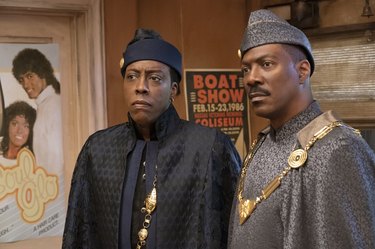 A lot will be happening over on Amazon Prime Video in March. The long-awaited sequel to Eddie Murphy's ​Coming 2 America​ will debut, along with a whole bunch of classic movies and new shows.
Nostalgic movies coming next month include ​As Good As It Gets​, the ​Back to the Future​ trilogy, ​Rain Man​, ​Patriot Games​, ​Wet Hot American Summer​, ​The Full Monty​, ​Silverado​, ​E.T. The Extra-Terrestrial​, ​Beloved​, and ​Out of Africa​.
Amazon Prime Video also has a couple of Original Series' worth checking out: Making Their Mark, an AFL docuseries; and The Invincible, an animated show that's based on the groundbreaking comic book from Robert Kirkman, the creator of ​The Walking Dead​.
As Good As It Gets (1997)
Attack Of The 50 Foot Cheerleader (2012)
A Very Brady Sequel (1996)
Back To The Future (1985)
Back To The Future Part II (1989)
Back To The Future Part III (1990)
E.T. The Extra-Terrestrial (1982)
I Can Do Bad All By Myself (2009)
Instant Nanny (2015) (UP Faith & Family)
In The Line Of Fire (1993)
Mae West: Dirty Blonde (2020) (PBS Living)
Neil Young: Heart Of Gold (2006)
The Whole Nine Yards (2000)
Tyler Perry's Meet The Browns (2008)
Wet Hot American Summer (2001)
American Masters – Dorothea Lange: Grab a Hunk of Lightning (2014) (PBS Living)
And She Could Be Next: Season 1 (PBS Documentaries)
Brad Meltzer's Decoded: Season 1 (History Vault)
Breathless: Season 1 (PBS Masterpiece)
Captain Marleau: Season 1 (MHz Choice)
Civilizations: Season 1 (PBS Documentaries)
Dorothy & the Wizard of Oz: Season 1 (Boomerang)
Ella the Elephant: Season 1 (Kidstream)
Fifth Ward: Season 1 (ALLBLK)
Jo Frost: Nanny on Tour: Season 1 (UPP Faith & Family)
Life With Elizabeth: Season 1 (Best TV Ever)
London Kills: Season 1 (Acorn TV)
Nightwatch: Season 1 (A&E Crime Central)
Not for Ourselves Alone: The Story of Elizabeth Cady Stanton & Susan B. Anthony: Limited Series (PBS Documentaries)
Range Rider: Season 1 (Best Westerns Ever)
Rhymes Through Times: Season 1 (Noggin)
Somewhere South: Season 1 (PBS Living)
The Paris Murders: Season 1 (PBS Masterpiece)
The Returned: Season 1 (Sundance Now)
Coming 2 America (2021) *Amazon Original Movie
Making Their Mark: Season 1 *Amazon Original Series
Words on Bathroom Walls (2020)
Invincible: Season 1 *Amazon Original Series
La Templanza (The Vineyard): Season 1 *Amazon Original Series